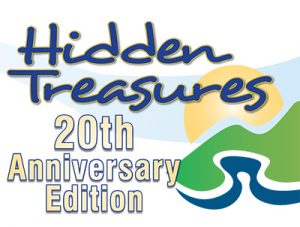 For the past 20 years, in addition to highlighting environmental problems in our region, The Appalachian Voice has also sought to showcase our magnificent, ancient mountains that people from all over the world come to visit. Below, we offer up just a taste of the natural adventures and cultural highlights from our story archives. By Savannah Clemmons and Jamie Goodman
North Carolina | South Carolina | Virginia | West Virginia
Kentucky | Tennessee | Georgia | Pennsylvania | Ohio
Paddling Appalachia
In the summer of 2009, Tim W. Jackson, former editor of Canoe and Kayak magazine, wrote about eight choice paddling opportunities in central and southern Appalachia. From heart-pounding class IV-V rapids to tranquil lake excursions, the list he created was by no means complete, but well-represents the diversity of the region's aquatic adventures.

See the list of "Eight That Are Great" from our Summer 2009 issue
North Carolina
Elk Knob State Park
In September 2011, volunteers from across the region completed the construction of a trail to the summit of the 5,520-foot Elk Knob, one of 10 peaks in the Amphibolite Mountains in the northwestern corner of North Carolina. Due to the mountain's soil, which is derived from the rich metamorphic rock called amphibolite, Elk Knob hosts a variety of rare plant and animal species, such as the Gray's Lily and trailing wolfsbane. The state park, opened in 2002, now includes four trails which vary in difficulty, as well as a backcountry camping area. The picnic area, located near the kid-friendly Beech Tree Trail, offers an opportunity to relax or enjoy lunch. While Beech Tree and Maple Run are easy hikes, the Summit Trail provides a challenge for more experienced hikers. — S.C.

Read the original story from our Oct./Nov. 2011 issue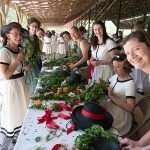 John C. Campbell Folk School
This hub of Appalachian art and cultural learning located in Brasstown, N.C., offers over 860 weekly or weekend classes for adults in the areas of art, music, dance, cooking and storytelling. Learn how to make baskets from trees, clothing from natural fibers, and books bound from leather. Day visitors are welcome to tour the craft and history center, hike the nature trails and beautiful grounds, or attend a free concert series and semi-weekly Saturday night community dances. — S.C.

Read the original story from our Dec/Jan 2012 issue
South Carolina
Rails-to-Trails: Swamp Rabbit Trail
This 20-mile greenway bicycle and foot traffic system in Greenville County is just one of the former railroads turned into pathways Joe Tennis explored for us in 2015. Load up your bikes and get ready to discover Virginia's Chessie Nature Trail, Kentucky's Dawkins Line and a roundup of exciting trails from other states.

Read the story in our October/November 2015 issuehttps://appvoices.org/2015/10/15/rails-to-trails/
Cherokee Foothills National Scenic Highway
Explore the little-known mountains in South Carolina on the Cherokee Foothills National Scenic Highway. Curving through the Upstate on S.C. Highway 11, the 112-mile byway provides proximity to six state parks, dozens of waterfalls, three Civil War Battlefields and some excellent whitewater boating opportunities, as well as quaint mountain towns.

Read the story from our June/July 2012 issue
Virginia
Crooked Road
Hop in your car and follow the 333-mile long Crooked Road in Southwest Virginia to experience a living history of Appalachian mountain music and culture. The year-round tour covers 19 counties and over 50 towns and communities, and is comprised of museums, exhibits and more than 60 venues where travelers can watch live performances of bluegrass and old-time, see instruments being made and more. Wayside exhibits along the route include special 5-minute audio recordings accessible on your car radio. The Birthplace of Country Music, the Carter Family Fold, and the Clinch Mountain Bluegrass Fest are just a few of the rich offerings along the route. — J.G.

Read the stories from our Summer 2007 and June 2014 issues.
Carvin's Cove Nature Preserve
Seven miles north of Roanoke, Va., lies the largest city-managed park east of the Mississippi River. Carvin's Cove protects over 12,000 acres of beautiful, thick forests surrounding a large reservoir. The cove is home to over 50 miles of scenic hiking and biking trails. The preserve has become a valued hotspot for mountain bikers, with routes ranging in difficulty from easy, like Riley's Loop, to strenuous, such as the Hemlock Tunnel Trail. — S.C.

Read the original story from our Early Winter 1997 issue.
West Virginia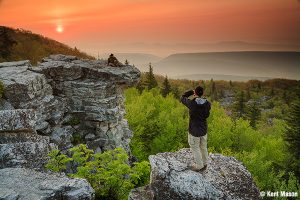 Bear Rocks Preserve
Located near Dolly Sods Wilderness, this 477-acre Nature Conservancy tract offers views stretching as far east as Shenandoah National Park. Due to extensive deforestation, the preserve is a wind-swept plateau dotted with stunted red spruce and barren shrub species characteristic of subalpine zones, providing habitat to plants and animals normally found much further north. The conservancy has worked to encourage native plant life such as huckleberry, wild azalea and the once-abundant red spruce. The plateau is also home to high-elevation cranberry bogs and giant boulders from which you can spot migrating raptors and songbirds. The land was used as an artillery training ground in World War II, so visitors are cautioned to stay on marked trails. — J.G.

Read more from our June/July 2012 Hidden Treasures issue
Droop Mountain Battlefield State Park
Located on Route 219 just north of Lewisburg, Droop Mountain is home to West Virginia's last civil war battle scene. A Civilian Conservation Corps-built museum and lookout tower still stand by the battlefield, and a system of easy to strenuous short hiking trails lead to a natural spring, mountain bog, pump house and a series of caves. The park also offers reenactments of the battle during the month of October. — J.G.

Read more from our June/July 2012 Hidden Treasures issue
Kentucky
Bad Branch State Nature Preserve
On the southern face of Kentucky's Pine Mountain lies a 2,639-acre piece of land that contains some of the most diverse ecosystems and stunning sandstone geology in the state. Located near Whitesburg, Ky., the preserve consists of a network of trails that leads hikers through a gorge filled with hemlock and rhododendron and past the 60-foot Bad Branch falls. Hikers can sunbathe on the trail's boulders, cool off under the falls, or take the High Rock Loop or Pine Mountain Scenic Trail to witness incredible views. Nature sightings include black bears, wildflowers or even Kentucky's only known nesting pair of common ravens. — S.C.

Read the original story in our October/November 2013 issue
Tennessee
Dudley Falls
In southwest Tennessee, Paint Creek pools to form Dudley Falls. The waterfall, and the swimming hole beneath, is a cool-water gathering place perfect during a hot summer day. The swimming hole ranges in depth, great for families with children of all ages. Set against the picturesque waterfall, the Dudley Falls swimming hole provides a relaxing place to swim or catch some sunrays while laying out on the rocks. — S.C.

Read about this and other Appalachian swimming holes in our Summer 1998 story
Craighead Caverns and the Lost Sea
Craighead Caverns in Sweetwater, Tenn., is home to America's largest underground lake, known as the Lost Sea. The cavern features unique geologic formations called anthodites, or "cave flowers," which are crystal-like minerals found in only a handful of caves worldwide. Lost Sea Adventures provides guided journeys into the cave, including a 3/4-mile hike and a glass bottom boat ride on the lake, as well an overnight "wild cave" tour for groups. — S.C.

Read the original story from our Early Winter 1997 issue.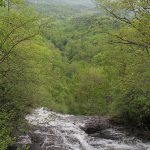 Georgia
Cradled at the base of the Appalachian mountains in northern Georgia, Amicalola Falls State Park is backcountry hiking, car camping, bio-exploring, luxury dining and day tripping all rolled into one. The centerpiece of the 829-acre park is the 729-foot Amicalola Falls, and an 8-mile trek through the parl leads to the southern terminus of the Appalachian Trail. A backcountry hikers inn and the luxurious mountaintop lodge are just part of the punch this small park packs.

Read the story from our original Hidden Treasures issue in June/July 2016
Pennsylvania
Black Moshannon State Park
In addition to more than 20 miles of trails and a network of adjacent unpaved state forest roads, the 3,394-acre Black Moshannon park contains 1,592 acres of rare protected bog that is home to three species of carnivorous plants, 17 varieties of orchids, and other unique species that make this a naturalist's dream. Part of the state's Important Bird Area, birdwatchers have spotted more than 175 different species, including the Greater and Lesser Yellowlegs, the Alder Flycatcher and the Common Yellowthroat. — J.G.

Read more from our June/July 2012 Hidden Treasures issue
Ohio
Gorge Trail
Part boardwalk, part footpath, the East Gorge Walk and West Gorge Trail in northeast Ohio's Mill Creek Metroparks system takes you past 15-foot Lanterman's Falls and an impressive seven-story grist mill still in operation today. The trail is part of the Mill Creek Metroparks system, which covers 4,400 acres of land in Mahoning County.

Read more from our August/September 2012 Hidden Treasures issue