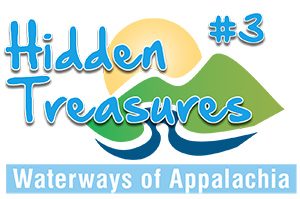 Welcome to the third installment of our exploration of some of the most beautiful, off-the-beaten-path places in the Central and Southern Appalachian Mountains. In this issue, we hand picked some water-related hot spots perfect for late summer days: hikes, waterfalls, swimming holes and everything in between — areas that are perfect for dipping your toes, or your whole self, into the water.
Gorge Trail
East Gorge Walk and West Gorge Trail create a two-mile loop along Mill Creek in Northeast Ohio. The part boardwalk, part footpath trail takes visitors by huge sandstone rock formations, a suspension bridge, and one of Mill Creek Metroparks' most impressive landmarks: Lanterman's Falls and Mill.
The waterfall's 15-foot free fall into a deep, rocky pool is made even more amazing by its location adjacent to the nearly seven-story mill made of stone and wood. Depending on the water level, the creek is still used to operate the grist mill, which functions today as it did in the 1800s, grinding corn, wheat and buckwheat.
To add length to the Gorge Trail, jump onto another trail through Mill Creek Metroparks, which cover more than 4,400 acres of land in Mahoning County. Mill Creek Park was the first park district in Ohio, opening in 1893. — JK
More Info: Located near Youngstown, Ohio. Visit: millcreekmetroparks.org.