"I am only one, but I am one. I cannot do everything, but I can do something." — Edward Hale, 19th century American author
Your voice, joining with others, is one of the most powerful tools you have to protect the land, air and water of central and southern Appalachia. Take action today!
Clean Power Plan: Ask your state leaders to support the first-ever national rule that seeks to limit carbon pollution from dirty fossil fuel electricity and increase the use of clean, renewable resources. Contact your Governor today!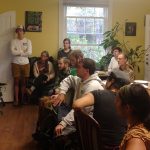 Tell OSM – Protect Our Streams!: The Office of Surface Mining Reclamation and Enforcement has been developing a new Stream Protection Rule since 2009, but the agency still has not released a draft proposal of the rule. Tell the OSM to protect streams from surface mining pollution.
Tell the President – Appalachian communities are still at risk: Over 500 mountains and more than 2,000 miles of streams have already been ruined. Add your voice to the growing movement urging the Obama administration to take action to stop mountaintop removal.
Become a Voice for Clean Water: From coal ash pollution to runoff from coal mining to fracking and pipelines, the health of our region's waterways are threatened. Become a Voice for clean water and join the movement to protect our rivers and streams.