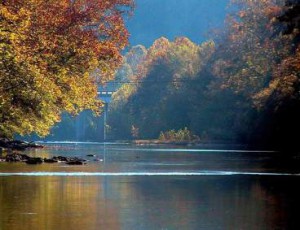 From our friends at the Clinch River Valley Initiative:
CRVI State Park ACTION ALERT:
CONTACT STATE LEGISLATORS (by February 11th) TO SUPPORT CLINCH RIVER STATE PARK BUDGET AMENDMENT
Thanks to the strong leadership of our Southwest Virginia legislators, a budget amendment has been introduced in the General Assembly requesting an initial $2.5 million for the development of a Clinch River State Park. Now, the Delegates and Senators in the sub-committees reviewing the amendment need to get a strong message that the Clinch River Valley needs a new state park! By February 11th, please call (preferred) or email the legislators listed below. Please urge house members specifically to support Amendment C-43 #3h, and Senate Members specifically to support Amendment C-43 #3s.
Let the legislators know that a new Clinch River State Park will create positive economic development in our beautiful region. If you are not able to speak directly with the legislator, then ask to speak with their legislative assistant. Thank you so much for taking the time to do this…it really helps!
Senators to contact:
Senator Phillip Puckett (804) 698-7538 district38@senate.virginia.gov
Senator Frank M. Ruff, Jr. (804) 698-7515 district15@senate.virginia.gov
Senator Charles J. Colgan (804) 698-7529 district29@senate.virginia.gov
Senator John C. Watkins (804) 698-7510 district10@senate.virginia.gov
Senator Henry L. Marsh (804) 698-7516 district16@senate.virginia.gov
Senator Stephen D. Newman (804) 698-7523 district23@senate.virginia.gov
Delegates to contacts:
Delegate John M. O'Bannon III (804) 698-1073 DelJOBannon@house.virginia.gov
Delegate Riley E. Ingram (804) 698-1062 DelRIngram@house.virginia.gov
Delegate Scott Lingamfelter (804) 698-1031 DelSLingamfelter@house.virginia.gov
Delegate Charles D. Poindexter (804) 698-1009 DelCPoindexter@house.virginia.gov
Delegate Christopher P. Stolle (804) 698-1083 DelCStolle@house.virginia.gov
Delegate Johnny S. Joannou (804) 698-1079 DelJJoannou@house.virginia.gov
Delegate Robert H. Brink (804) 698-1048 DelRBrink@house.virginia.gov
Delegate Algie T. Howell, Jr. (804) 698-1090 DelAHowell@house.virginia.gov