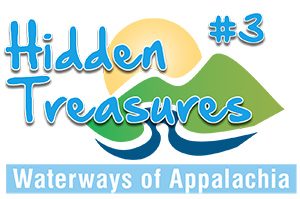 Welcome to the third installment of our exploration of some of the most beautiful, off-the-beaten-path places in the Central and Southern Appalachian Mountains. In this issue, we hand picked some water-related hot spots perfect for late summer days: hikes, waterfalls, swimming holes and everything in between — areas that are perfect for dipping your toes, or your whole self, into the water.
Kentucky
Dog Slaughter Falls
Located in the southern part of Daniel Boone National Forest, this waterfall is much more beautiful than its name implies. Slip away from the crowds and concrete of the popular Cumberland Falls and find yourself walking through forests of rhododendrons and wildflowers to the smaller but equally gorgeous 15-foot Dog Slaughter Falls. You might even find yourself alone, as the trail is not for beginning hikers. Depending on the season and water level, Dog Slaughter Falls pools into a small swimming hole at the bottom.
The falls itself is located amidst cliffs and boulders, and if you're not afraid of getting wet you can walk behind the waterfall. But be careful, the trails around the waterfall are strenuous and not for people with weak ankles or knees. Anglers may be able to make a catch on the same hike, as the stream is stocked each year with rainbow trout. In addition to the Cumberland Falls access, the falls can be accessed from a trailhead off Forest Service Road 195. — By Jessica Kennedy
More Info: Located near Corbin, Ky. Visit: fs.usda.gov/recarea/dbnf/recreation/recarea/?recid=39652
Red River
At a length of 97 miles, the Red River has something for everyone; the upper portion is perfect for intermediate and advanced paddlers with stretches of class II and III rapids, while the gentler middle section provides a scenic class I paddle or a beautiful place to fish. The best water levels are in spring and fall.
Both sections of the river offer floaters impressive views of Kentucky's Red River Gorge, so allow plenty of time to enjoy a riverside perspective of the mountains. The Gorge is known for its boulders, sandstone cliffs and unusual rock formations. Camping is allowed on the Daniel Boone National Forest land on the south side of the river.
A battle to "Save the Red River Gorge" began in the 1960s and lasted for several decades. The Red River Gorge was the star of Wendell Berry's novel "The Unforeseen Wilderness," published in 1971 to deter the Army Corps of Engineers from damming it to create a lake. In 1993, a section of the river was designated as National Wild and Scenic River, the first in Kentucky. The gorge is home to many species of birds, plants and wildlife, and floating down the river can provide a rare glimpse at some of these fascinating plants and animals. — By Jessica Kennedy
More Info: Located in Daniel Boone National Forest, Ky. Visit: byways.org/stories/74560