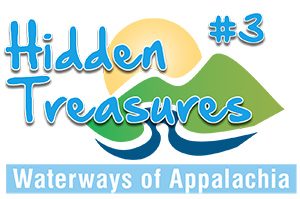 Welcome to the third installment of our exploration of some of the most beautiful, off-the-beaten-path places in the Central and Southern Appalachian Mountains. In this issue, we hand picked some water-related hot spots perfect for late summer days: hikes, waterfalls, swimming holes and everything in between — areas that are perfect for dipping your toes, or your whole self, into the water.
Mills River Trails
If you're looking for a hike to cool down but don't feel like fully submerging yourself, the network of trails in the Mills River area of Pisgah National Forest is the perfect place.
Hikes here are lined with babbling brooks that welcome visitors who make it to the less popular and more remote area of the park. The trails meander near and through the North and South Mills rivers and ford crisp mountain streams numerous times. Many of the stream crossings require hikers to wade instead of rock hop, so be sure to wear shoes that you don't mind getting wet.
At the beginning of the South Mills River Trail, a suspension bridge with a rope handrail provides one of the only dry river crossings. Multiple trails in this area of the park allow visitors to create a hike of any length — do a short out-and-back hike or grab a trail map to create a longer loop. If you're looking for a relaxing overnight trip, check out the campsite at Wolf Ford, four miles from Forest Service Road 476.
Before you dig out your water shoes, make sure to check the weather; some river crossings are impossible to wade through in high water from heavy rainfall. Many of the trails in this area allow mountain bikers and horseback riders as well. — By Jessica Kennedy
More Info: Located in Pisgah National Forest at the Turkeypen Gap Trailhead. Visit: hikewnc.info/trailheads/pisgah/pisgah/mills.html
Fontana Lake
At 29 miles long with 240 miles of shoreline, Fontana Lake stretches in many directions to create coves that feel like your own pocket of paradise.
The lake was built by the Tennessee Valley Authority and sits beneath the Great Smoky Mountains National Park. At some places on the water, the view is unobstructed from lake level to the top of Clingman's Dome, the highest peak in the park.
Despite its size of 11,700 acres, Fontana Lake is secluded and quiet, offering the perfect place to disconnect from contemporary concerns and appreciate nature. The lake never gets very wide, and since more than 90 percent of the land surrounding Fontana Lake is owned by the National Park Service or the U.S. Forest Service, your visit will be entirely your own.
Visitors to Fontana Lake can boat, water ski, swim, fish or check out the surrounding area, which is home to the Nantahala River as well as Tsali hiking and biking trails that overlook the lake. Because of its deep, cold waters, swimming is crisp and refreshing on a hot day, while fishing is prime; muskie and walleye of record sizes have been caught here. — By Jessica Kennedy
More Info: Located in Bryson City, N.C. Visit: greatsmokies.com/fontana.php