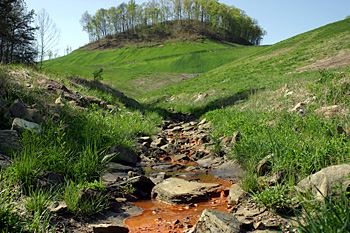 Appalachian Water Watch was created to address water quality issues within coal-impacted communities around Central Appalachia. Appalachia's people and ecosystems rely on the availability of clean water. The entire lifecycle of coal—mining, processing, burning, and waste disposal—seriously threatens this natural resource. Through this program, we promote and ensure compliance with laws that protect water quality.
State agencies in the Appalachian coal-bearing regions have failed to hold the coal industry accountable for inaccurate and sometimes unlawful record keeping of surface water impacts. This lack of enforcement highlights the need for independent monitoring, in the form of reviewing existing records as well as actual water testing. The Appalachian Water Watch Alerts site allows local people to alert their community, as well as state and federal agencies, to water pollution events.
ACE Project: Community-Based Water Testing
The Appalachian Water Watch citizen monitoring program is designed to fill the vacuum left by the lack of state government enforcement by empowering local communities to monitor their own water, piecing together a broad view of coal-related contamination across the entire region. Many organizations and individuals throughout Central Appalachia work together to collect local water quality data. This data is then made public and can be used to advocate for the enforcement of existing laws and increased protection for clean water and healthy communities.
Accountability through the Courts
Federal law, including the Clean Water Act and the Surface Mine Control and Reclamation Act, are in place to protect public water and other valuable natural resources, and to protect local communities from harm caused by the coal industry. When these laws are broken, or not adequately enforced by state agencies, legal recourse by citizen groups may be necessary. The information collected through both our citizen monitors and through review of state and industry data enables us to assist local residents in legal action against offending companies and agencies. This information can also be used to enact local, state and national policies to better and more permanently protect our waterways.