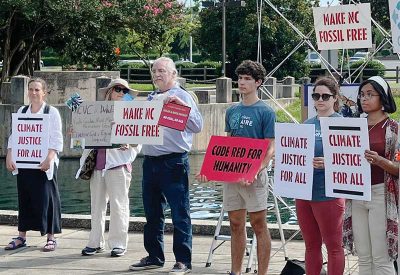 Moving TVA from laggard to leader in the clean energy transition
The Tennessee Valley Authority, the nation's largest federally owned utility, is falling behind in the clean energy transition, replacing coal-burning plants with other dirty fossil fuels and constructing more unnecessary pipelines. Appalachian Voices is organizing with local community members to advocate for clean and just renewable energy investments at two old coal-burning plants that TVA wants to convert to burn methane gas. We released an innovative report showing that renewable energy alternatives would create 20 to 30 times more long-term jobs than TVA's gas plan. We also joined partners to create the Clean Up TVA Coalition and held the well-attended People's TVA hearing and Take Back TVA rally, building power to reform this powerful public utility.
Democratizing electric co-ops
We are advocating for transparent, democratic management and clean energy growth in rural electric cooperatives. We don't want to see co-ops left behind in the transition to renewable power and denied the benefits of the clean energy economy. As a founding member of the Rural Power Coalition, we have successfully advanced legislation in Congress to help co-ops retire coal plants and invest in renewable energy. In Virginia, we're working with partners to support member-owners of local rural electric cooperatives across the state to ensure their cooperatives operate in a transparent and democratic manner.
Building off the success of our Tennessee Co-op Scorecard, which ranks state co-ops to help member-owners hold them accountable, we've worked with partners this year to release co-op scorecards in Virginia and Alabama. We're also currently building a scorecard of the 26 electric co-ops across the state of North Carolina.
Holding monopoly utilities accountable and creating an equitable clean-energy future
Appalachian Voices' intervention with the State Corporation Commission led Virginia's monopoly utility, Dominion Energy, to return $330 million to the hands of ratepayers in 2022 alongside a $50 million rate reduction for customers. This was a huge public interest victory over this influential corporation, though it would have gone farther had Virginia law not limited it. We continue to advance policies that would ensure utilities like Dominion can't continue to rig the system for their own corporate gain.
In North Carolina, we're working to counter monopoly power. Alongside environmental, racial and social justice advocates and impacted community members, we're creating a movement to transform our inequitable energy system into one that prioritizes the health and welfare of communities over profit. Appalachian Voices is embarking on the creation of a "People's Energy Plan" that we are collaboratively developing with communities across the state to bring an equitable and community-based vision to our energy system.