By Frances Figart
In a March 2021 piece, readers of The Appalachian Voice learned about the increasing wildlife mortality along a busy highway just beyond the boundary of Great Smoky Mountains National Park. The article was titled Safe Passage Works to Make Interstate 40 Safer for Wildlife and People. Since then, two dozen organizations have been collaborating to do just that—and they are beginning to see some light at the end of the tunnel.
As Southeast regional director for the National Parks Conservation Association from 1992 to 2019, Don Barger had a vision of protecting wildlife in the lush, rugged terrain adjacent to the park. With high hopes for restoring severed wildlife corridors, Barger hired Jeffrey Hunter in 2015 to "maximize our last best chances to preserve connectivity within the living landscape of the Southern Appalachian region."
Hunter had been involved decades earlier with the Southern Appalachian Forest Coalition, which advocated for protected roadless areas and forest plans that valued biodiversity.
"SAFC's vision for the Southern Appalachians identified core areas and key corridors that made up a conservation network — a network that could be even better if these core areas were protected and corridors were made more robust," said Hugh Irwin, senior conservation specialist with The Wilderness Society . "It was clear from the analysis we did that making the corridors more robust involved addressing highway and road issues."
In particular, one key corridor had to be protected: the Pigeon River Gorge, a steep, wild area bordering the national park and bisected by the raging traffic of Interstate 40. However, departments of transportation did not acknowledge the impacts of highways on wildlife movement, nor would they embrace engineering designs to address them.
Studying the gorge's proximity to the park and other conservation lands, Hunter telescoped in on a particularly dangerous stretch of Interstate 40 made up of eight miles in Tennessee and 20 in North Carolina.
In early 2017 he created an informal network of organizations interested in curbing wildlife mortality. This collaborative network included representatives from departments of transportation in both states. To offer sound recommendations for making the highway safer, the collective needed to understand movement patterns among the three species most dangerous to drivers: bear, deer and elk.
Hunter hired conservation biologist Steve Goodman to coordinate extensive wildlife-camera research. Liz Hillard of Wildlands Network tracked elk movement via GPS-fitted collars. About four months into the research in 2019, the North Carolina Department of Transportation announced that five previously planned bridge replacements would soon commence in the study area. Preliminary data identified these bridges as mortality hotspots. They would not be replaced again for decades but could provide safe passage if redesigned for wildlife now!
"Jeff jumped into action," Goodman recalled, "scheduling field trips with NCDOT engineers and biologists, and convening two special virtual meetings to discuss and provide up-to-date research, data and expertise."
Though NCDOT had no funding for wildlife provisions, their new collaborative partners urged them to try inexpensive modifications on the first bridge replacement at Harmon Den. NCDOT agreed to expand the road shoulder under the highway, incorporating two wildlife pathways and adding cattleguards, fencing and other features to guide animals to safely cross under the bridge.
"It was important to bring consultants, NCDOT, and land managers from multiple agencies together to provide recommendations on the Harmon Den bridge replacement," said Tara Anderson, a wildlife biologist in Pisgah National Forest. "The result will benefit large and small mammals, amphibians, and reptiles as well as aquatic species."

The collaborative group — now known as
Safe Passage: The I-40 Pigeon River Gorge Wildlife Crossing Project
— has elevated awareness around landscape connectivity in the Southern Appalachians. As land acquisitions continue to stabilize key habitat adjacent to the highway, wildlife modifications are being planned for upcoming bridge replacements.
In June, stakeholders met with North Carolina Gov. Roy Cooper, who voiced his support for the gorge research. In July, NPCA and Wildlands Network released a scientific report that included 20 recommendations for improvements to existing structures and the creation of wildlife-only overpasses in the Pigeon River Gorge.
Also in July, the North Carolina Wildlife Federation announced the winners of its 58th Annual Governor's Conservation Achievement Awards: Jeff Hunter was named Wildlife Conservationist of the Year.
"This effort has changed hearts, minds and organizational culture at the departments of transportation," Hunter marvels. "This cultural shift should benefit wildlife statewide in North Carolina as bipartisan support has reached the highest levels of state government."
"For the wellbeing of wildlife as well as human travelers, our culture has to address wildlife connectivity," said Irwin. "Safe Passage is a shining model of how this can be done involving a broad range of stakeholders and the best science."
Barger says Safe Passage has exceeded his wildest expectations: "The project serves as a lesson and a template for all of those interested in preserving the integrity of our living landscape."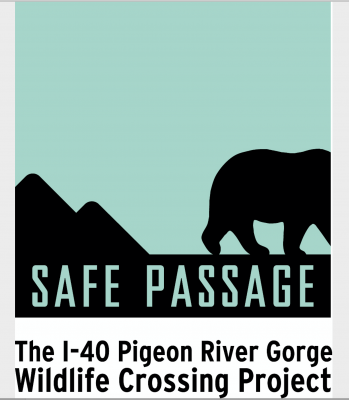 To make it possible for citizens to contribute their funds to future wildlife crossing work, seven of the Safe Passage organizations formed the Safe Passage Fund Coalition. Visit SmokiesSafePassage.org.
Frances Figart is the Creative Services Director for Great Smoky Mountains Association and the Outreach Chair for the Safe Passage Fund Coalition. She writes a weekly column "Word from the Smokies" for the Asheville Citizen Times from her home office in Flag Pond, Tennessee.