We have to address the economic and environmental burdens created by a dependence on coal
Earlier this month, a letter to the editors of The New York Times by Appalachian Voices Executive Director Tom Cormons appeared on the newspaper's website.
Tom penned the letter following a piece by the Times editorial board that described a "grossly disfigured landscape" where steep mountain ridgelines that formed over millions of years old stand "flat as mesas … inhospitable to forest restoration."
After decades of mountaintop removal and large-scale surface mining, these grim descriptions of Central Appalachia are familiar in the media, literature and the daily experience of those that live near mines.
Not only does this devastating practice continue to reduce mountains to rubble, poisoning the air and water, Tom points out:
… mountaintop removal is moving closer to communities as the industry searches out ever-dwindling coal seams, and residents continue to suffer from a multitude of health effects related to mining pollution, not to mention dire economic conditions.
The influence of the extractive industries embedded in the region is a constant. Backers of mountaintop removal believe the debate ends with the reclamation of mines — a superficial "fix" that Ken Hechler, a former congressman and long-time opponent of mountaintop removal, has unsettlingly compared to putting "lipstick on a corpse." But new research challenges the myth that reclamation can restore mountains, much less ecological health.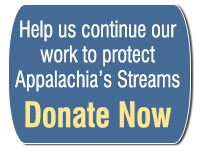 The Times' welcome editorial drew attention to this study, by researchers at Duke University, that found mountaintop removal has left large swaths of Central Appalachia 40 percent flatter than they were before mining, leading to staggering changes in erosion patterns and water quality that are, essentially, permanent.
"We have data that the water quality impacts can last at least 30 years, but the geomorphology impacts might last thousands of years," according to the study's lead author, Matthew Ross.
The editorial also makes a brief mention of the Stream Protection Rule, which would go far to reducing the worst impacts of mountaintop removal. Tom wrote his letter in part to stress the importance of this science-based rule and to urge federal regulators to stand firm in the face of industry opposition, and finalize it before President Obama leaves office.
Not doing so could come at a high cost to Appalachia's environmental and economic future. As Tom's letter concludes:
… unless the [U.S. Department of the Interior] has the courage to issue a strong rule later this year that reflects the most current science, achieving a prosperous future here will be all but impossible.
Read the Times' editorial here. Click here for Tom's letter.
Stay informed by subscribing to the Front Porch Blog.