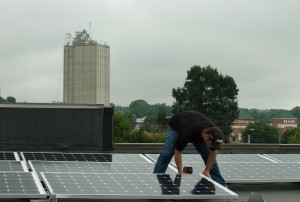 A new study out today discusses Virginia's opportunity to comply with the Clean Power Plan — the first-ever standard on carbon pollution from the nation's power plants — in a way that benefits ratepayers and the economy. It shows that Virginia should strongly prioritize renewable energy and energy efficiency and allow for participation in carbon trading with other states in order to boost economic activity, cut electricity costs, and safeguard healthy air.
Such a plan, according to the Union of Concerned Scientists report, will result in appreciable monthly bill savings for residents, lead to investment in clean energy development and workforce training that will connect workers with new jobs, and reduce dangerous air pollution long-term while addressing our state's contribution to global warming.
In particular, the carbon-trading approach would yield some $251 million annually for Virginia between 2022 and 2030. If that money were apportioned in a way that is currently being proposed in a bill this legislative session, approximately $25 million a year would be designated for workforce training in the coal mining region of Southwest Virginia, which is struggling with the ongoing decline of coal markets. The region could also see some of the additional $87.8 million that would be distributed statewide for renewable energy, energy efficiency and conservation programs.
Check out this post by Jeremy Richardson of the Union of Concerned Scientists for a closer look at how choosing a more ambitious path will create positive ripples across Virginia.
And stay tuned for updates on how you can be involved with Appalachian Voices as we work to ensure that Virginians get the strong state plan we deserve.
Stay informed by subscribing to the Front Porch Blog.