Editors' Note: This is the final installment of a three-part series on the Front Porch this week about North Carolina and the Clean Power Plan. Tomorrow, Jan. 15, is the final day for North Carolinians to demand that the state Department of Environmental Quality abandon its efforts to block the Clean Power Plan and develop a real clean energy plan. Add your voice here.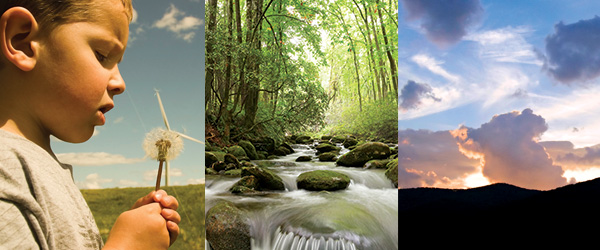 We're proud to finalize our historic Clean Power Plan. It will give our kids and grandkids the cleaner, safer future they deserve. The United States is leading by example today, showing the world that climate action is an incredible economic opportunity to build a stronger foundation for growth.
This is how U.S. Environmental Protection Agency Administrator Gina McCarthy described her agency's Clean Power Plan in August of 2015 when it announced the final rule. With this statement, she summed up in simple terms the moral and economic basis for the plan.
By shifting our nation away from the use of fossil fuels for electricity generation, requiring (for the most part) the development of cleaner energy sources, and providing an incentive for making our homes, businesses and industrial plants more energy efficient, the Clean Power Plan will help clean up our air and water, reduce health impacts associated with fossil fuel pollution, lower energy costs, and accelerate economic growth in the clean energy sector. These benefits will be experienced not only nationwide, but globally, and far outweigh the anticipated cost of compliance.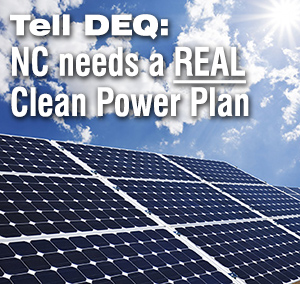 This is a momentous opportunity for all of us. But, many of our leaders choose to defend the status quo, whether for political reasons or to keep the checks coming in from dirty energy campaign donations, it doesn't matter. What matters is that, instead of leveraging the Clean Power Plan as a means for building on the environmental and economic gains associated with the surge in clean energy development over the past decade, these leaders are choosing to fight the EPA through litigation, and are even going so far as to develop a compliance plan that is intended to fail. This path is a reckless one, and it is the path being taken in North Carolina by Gov. Pat McCrory and Department of Environmental Quality Secretary Donald van der Vaart. Unless we make our voices heard (by Friday, Jan. 15!!), North Carolina's families, economy and environment could all lose out.
Fortunately, all across the state North Carolinians are speaking up and demanding that the administration develop a real plan for meeting EPA's carbon-reduction targets while achieving a clean energy future for our state. Those targets seem easily achievable by the 2030 deadline, as illustrated by the following.
Meeting EPA's targets for North Carolina is a lot easier than Governor McCrory, Secretary van der Vaart and their supporters would have us believe, and the economic and environmental benefits of using the Clean Power Plan as a vehicle for expanding North Carolina's clean energy economy are evidenced by the gains we've already achieved. Just imagine what a doubling of the state's clean energy economy could mean over the next six years, much less the next 14 years. And the EPA has made it as easy as possible to get there by providing all states with flexible options for meeting the targets, allowing for state and regional collaboration and developing a Clean Energy Incentive Program that incentivizes early action on renewable energy development and energy efficiency for low-income communities.
Rather than continuing with their political jockeying and pandering to special (read: fossil fuel) interests, North Carolina's leaders should instead see the Clean Power Plan for the momentous opportunity it represents and develop a compliance plan that maximizes the potential benefits for North Carolina's economy, environment and public health.
To that end, as part of our comments on the state's current "plan to fail," Appalachian Voices calls on North Carolina to develop a plan that:
Meets or exceeds EPA's required targets for North Carolina;
Is based on an inclusive and participatory stakeholder process to allow for community input on the development of the state plan as it is being developed; rather than after the state has already drafted the plan;
Prioritizes renewable energy and energy efficiency over approaches that continue our reliance on fossil-fuels;
Commits North Carolina to participating in the Clean Energy Incentive Program and prioritize renewable energy and energy efficiency projects that benefit low-income communities; and,
Generates revenue from the allowances or credits created by emissions reductions or emissions rate improvements, and reinvest those revenues in additional clean energy projects with priority given to low-income community projects.
It is our duty to hold our elected leaders and their agency officials accountable to our future. We are calling for a plan that strives for social and economic equity, environmental justice and clean energy for all. The Clean Power Plan and the development of state plans to comply represent one of those moments that could determine the course of history for the current and future generations. Make your voice heard by 5 p.m. tomorrow, January 15.