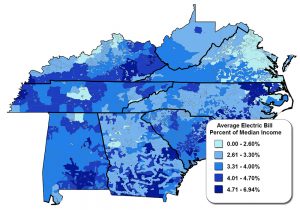 Fifty years ago, President Johnson declared a "war on poverty" in America, and Congress passed legislation to increase support and economic opportunities for the poor. Appalachia was the "poster region" for this grand endeavor.
While there has been meaningful progress, too many Appalachian counties remain among the poorest in the U.S. The reasons are many and complex, but a primary factor is the region's over-dependence on the coal industry. It permeates virtually every facet of life, as the recent spills have revealed.
As coal continues its inevitable decline, the need for economic diversification in the region is brought into sharp focus. People in Appalachia deserve opportunities to prosper in ways that preserve the region's natural heritage to pass on to future generations.
Although there is no silver bullet, there are important steps we can take right now. As a new report by our Energy Policy Director Rory McIlmoil shows, growing a strong energy-efficiency business sector in the region holds tremendous promise. Here's what Rory found: families in the Southeast pay a higher percentage of their income for electricity compared to the national average, and they're primarily concentrated in some of the poorest rural areas. They often spend as much as 20% of their income on electricity. This winter, some families had $400 electric bills, forcing some to make impossible choices between paying their electric bills or paying for other necessities like food, housing, education, and health care.
If financing for energy efficiency improvements was made more available by electric utilities, families could benefit from major savings on their electric bills right away. In addition, investing in energy efficiency can create thousands of jobs and foster local businesses.
A "war on wasted energy" makes sense for many reasons, and it would provide a much-needed boost to communities in Appalachia and across the South who are most in need.
• Read the full report: Poverty and Electricity Costs in the Southeast
• Read about our new Google Maps Gallery and view our accompanying Poverty and Electricity Costs Maps: