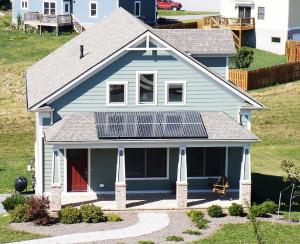 As the comment period concludes on Appalachian Power Company's proposed solar "stand-by" charge and next week's formal regulatory hearing nears, we're at full swing in a major push for solar freedom in Virginia.
Concerned ratepayers from Abingdon to Amherst, Botetourt to Blacksburg, Lynchburg and Floyd and all across the state have called for their power company to work with customer-generators and not to interfere with the free market for residential clean energy. Solar installation professionals, local elected officials, and solar homeowners have lent their voices in hope of denying an unfair and punitive new policy.
In local news sources — print and public radio – and in the blogosphere, the word is out: Virginia's second-largest utility seeks to impose an unfair new fee on customers with solar arrays on their property over 10 kilowatts. Hundreds of Appalachian Power customers have already told the SCC that this fee punishes those who benefit their communities in so many ways by choosing to invest in clean energy for their homes, and it's clear how this move by the company threatens to turn good candidates for new installations away from going solar.
To protect affordable clean energy options for customers, there is still time to take action and take this effort through the last mile. Come out and be in the room at the public hearing in Richmond at 10 a.m. on Tuesday, September 16 at the State Corporation Commission when citizen comments are heard on the utility's proposal.
Contact me, your local campaigner Hannah Wiegard, at hannah[at]appvoices.org if you're an ApCo customer and have questions, need a hand crafting testimony, or would like help arranging transportation to the hearing in downtown Richmond on Tuesday, September 16. See you there!