Two weeks ago, I attended a public meeting along with dozens of Upper Cumberland residents about the proposed "natural" gas pipeline that is slated to cut through eight Tennessee counties. Some folks had just heard about the pipeline for the first time, and, while they hoped to get more information, many left with frustration about the inaccessible process.
The meeting was hosted by the Federal Energy Regulatory Commission to seek comments on the 122-mile pipeline proposed by Enbridge Inc., a multi-billion-dollar fossil fuel company based in Canada. If built, the Ridgeline Expansion Project would supply gas to the Kingston Fossil Plant, which the Tennessee Valley Authority hopes to convert to gas instead of replacing with clean alternatives.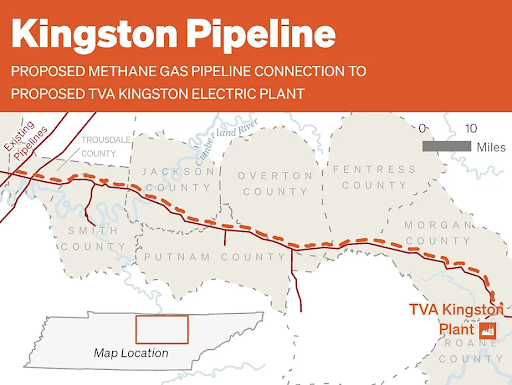 The meeting didn't include a presentation or introduction to what this project means for the Tennessee Valley, even though it would have a major impact on our communities and our power bills. It would commit TVA ratepayers to paying for fossil fuels for decades — despite the increasing cost of so-called "natural" gas.
This year, ratepayers like me saw higher bills when TVA raised its "fuel cost adjustment" to deal with soaring gas prices. One local power company reported a 16.5% electricity bill increase for their average residential customer, writing that "the high price of natural gas is largely at fault."
Converting the Kingston Fossil Plant to a natural gas facility would expose local communities — who already suffered the 2008 Kingston Coal Ash Spill — to more pollution while creating very few permanent jobs. TVA's own estimate for another gas plant of the same size shows that only 25-35 permanent jobs would be created. Meanwhile, a recent study by Appalachian Voices showed that clean energy alternatives for replacing the plant would create hundreds of full-time jobs for the Tennessee Valley.
Because of these impacts, it's important that people's voices are heard. FERC is seeking written comments until Thursday, October 20, at 5 p.m. ET.
Say NO to the Enbridge pipeline
Many folks in impacted counties have been led to believe the project is a done deal or that it's a modification of an existing pipeline. Others don't recall hearing about it at all. But TVA hasn't officially decided whether it's going with gas, and this would be a brand new pipeline.
For communities on the route, there are significant public safety risks. In fact, pipelines owned by Enbridge have a history of explosions. In 2018, one of the company's pipelines exploded in Smith County, and in 2019 a woman was killed when an Enbridge pipeline exploded in Kentucky. People deserve to be informed about these risks.
Because of local residents speaking up, we've learned that this pipeline would cut through the Flynn Creek Impact Crater, which is one of the best-preserved ancient impact craters on Earth. And, along Flynn Creek, there are well-documented Indigenous historic sites. Whether these would be impacted should be closely studied with leadership from affected Tribes.
In total, the pipeline would cross about 550 streams and wetlands, including tributaries of the Obed River, a National Wild and Scenic River. This river is home to several threatened and critically endangered species, such as the Alabama lamp mussel that is found at only one other site in the world.
All over the country, people are winning their fights against pipelines when they come together to use their collective power. The turnout at the Upper Cumberland meeting was only possible because folks told their friends about it and published articles in the local newspaper. It's up to us to spread the word in our communities and share why this gas buildout is bad for Tennessee.