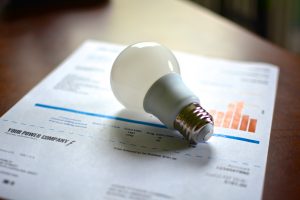 November 6 marks the official end of Daylight Savings Time. At 2 a.m., clocks will be turned back one hour. For most folks, this means an extra hour of shut-eye. However, for a group of students at Appalachian State University (ASU) it's an opportunity not just to get some extra sleep, but to help their neighbors save on energy costs as well.
As winter approaches and days get shorter, lights will need to be turned on earlier and earlier. In mountain communities, home energy bills can be much higher in winter due in part to this increased need for lighting. High energy bills pose a great burden for many families in Appalachia, sometimes amounting to more than 20% of total family income. Unfortunately, the upfront cost of energy efficiency upgrades prevents some families from making the home improvements they need to help lower their electricity bills and make their homes more comfortable in the winter months.
To help folks with their winter energy bills, the Appalachian Voices Energy Savings team has come up with the "Daylight Savings Challenge." We proposed the idea to almost 100 ASU students in the Sustainable Development and Appalachian Studies departments in late September. The challenge is simple: replace 160 incandescent and fluorescent light bulbs with energy-efficient LED light bulbs by the Daylight Savings time change on November 6. LEDs use 75% less energy than incandescent lights, saving as much as $15 per year per bulb.
As part of the challenge, groups of students will visit participating community members' homes to perform light bulb audits and calculate how much money will be saved by switching to LEDs. The students will then replace all light bulbs in the homes at no cost to the residents. This project will not only reduce energy use and cost, but increase energy efficiency awareness across the county as well.
To locate community members who would benefit from the energy savings, we are partnering with Watauga County Project on Aging, which provides services to senior citizens of Watauga County, including in-home care, meal delivery, and transportation. Seniors living on fixed incomes can have difficulty financing home energy upgrades.
If all of the 160 LED light bulbs replace inefficient incandescent bulbs, the Daylight Savings Challenge will save Watauga County residents a collective total of up to $2,500 per year on energy bills. The amount of energy saved would be equivalent to about 10 tons of coal per year and would prevent 25 tons of carbon dioxide — a greenhouse gas that contributes to climate change — from being released into the atmosphere every year.
To participate in the ASU project, or if you know someone who would be a good participant, contact me by email or phone at 828-262-1500.
Will YOU accept the Daylight Savings Challenge? Switch to LEDs before November 6 to save money and help the environment.