At a recent economic summit in Wise, Va., Tammy Owens paused at a display booth about the benefits of reclaiming abandoned coal mines as sites for new business. Owens owns land in nearby Dickenson County that years ago was a strip mine; it's now in pasture for livestock as part of her organic commercial farm, established in 2011.
She also owns land along the Russell Fork River and wants to start an outfitter company that runs river trips. She's working with the county and the U.S. Forest Service to put the take-out site downstream from her property, on another abandoned strip mine.
"It all circles back to sustainability, with the way our land is, the way it's laid out, and keeping the natural beauty while we have a new economy," she says. "It's really exciting, there's so many possibilities."
Owens was one of more than 300 people who attended the 2016 Economic Forum on May 12, hosted by the University of Virginia's College at Wise. The school is a key player in efforts to improve the region's economy, and hosted the forum — with the tagline "Discover. Connect. Ignite." — as a way to bring together the many public, private and nonprofit entities working on economic development initiatives to help move Southwest Virginia forward.
"Our commonwealth cannot be successful unless all our communities and regions are successfully growing," said Matt Erskine, Deputy U.S. Assistant Secretary for Commerce for Economic Development and the morning's featured speaker. "Yes, there are longstanding challenges in this region … but there is good reason to be optimistic."
Under the Obama administration's POWER Initiative to boost areas around the country hit hard by coal's decline, the 2016 federal budget includes a total of $65 million for matching grants. The key, Erskine said, is partnership and collaboration. "It is not and cannot be a silver bullet," he said. "It's not a hand out. It's all merit-based and competitive, and regional and local entities have to have skin in the game."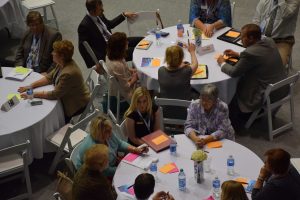 To help encourage the dialogue needed to foster collaboration, the conference planning partners — which included Appalachian Voices — set up a series of breakout sessions for the afternoon. Topics covered education, workforce development, health and wellness, keeping and supporting existing businesses, attracting new businesses, developing the region's agricultural and natural assets, and tapping into emerging industries like solar energy.
Appalachian Voices, along with many other groups, companies and government agencies, had an information booth at the conference, and solar was one of our featured topics. Over the past several months, Appalachian Voices has been intensively researching the opportunities for community-scale solar energy in the region. It's one of the fastest growing sectors in the U.S. economy, and we're seeking ways to help Southwest Virginia tap into it. Our emphasis is on building local wealth, developing local systems and capacities that "in-source" labor, services, materials and procurement.
The other topic displayed at our booth was the opportunity for turning abandoned mine lands (generally strip mines closed prior to 1977) into a force for positive development, including solar energy but also a variety of other economic endeavors. Appalachian Voices is currently working to identify optimal sites for potential funding under the RECLAIM Act, bipartisan legislation that would release $1 billion over five years for remediation of sites that have a post-cleanup economic benefit.
The concept resonated with Didi Caldwell, an international expert in industrial site selection. Caldwell stopped by the Appalachian Voices booth to talk about reclamation opportunities, and during her address to the conference she mentioned the idea and our work.
It's also what intrigues Tammy Owens of Dickenson County.
"How do we go from the industry of coal that all these generations have grown up with … into something that's drastically new?" she asks. As she has talked with people in the region, she has found some still deny coal's decline, but more often she finds hesitation, misgivings, a "fear of the unknown." "We're at the point now, coal is gone forever and it's not coming back. We've had lean years before and could wait it out."
But this time, Owens says, the region has to embrace the chance to reinvent its economic future. Judging from the turnout and enthusiasm around the UVA-Wise Economic Forum, she's not alone.
"We wanted it to build positive energy and we definitely accomplished that," said Shannon Blevins, Associate Vice Chancellor at UVA-Wise and head of the school's Office of Economic Development and Engagement. As far as she knows, it was the first time in the region so many people had come together to focus on solutions. "I think there's power in getting that many people together who care about the region, and their neighbors."
Hundreds of ideas came out of the breaking sessions, which Blevins and others have grouped into six broad areas and will post on UVA-Wise's website inviting people to join those groups and keep the conversation going.
In the week since the forum, Blevins has heard positive feedback from people who attended, including one woman who told her it felt like a pivotal moment, "like in five years we'll point back to the forum as the day things really started to turn the corner."