Benefits for Coal Miners with Black Lung Falling Behind
Monthly Benefit Rate Hasn't Kept Up With Cost of Living or Inflation, Leaving Sick Miners and Their Families without an Adequate Safety Net

Tens of thousands of coal miners across the country are disabled by or have died from black lung disease. These miners and their families rely upon black lung benefits to pay for their healthcare and provide monthly compensation as the miner can no longer work. In 1969, when the federal black lung benefits program was created, a miner received $144.50 each month to help support their cost of living. In today's currency, adjusting for inflation, that would equate to $1,204.70. Unfortunately, the monthly benefit rate has not kept up with the cost of living. Today miners receive nearly 40% less than the value of the original amount, $738 a month. Miner benefit levels have not kept pace with inflation and the cost of living.
---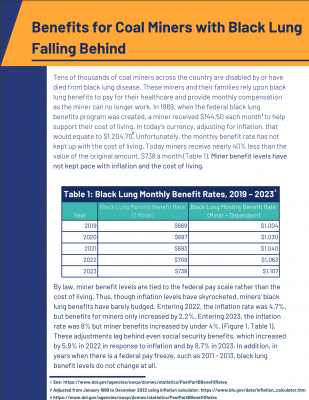 This report was developed by Appalachian Voices and Appalachian Citizens Law Center and published on March 15, 2023.