One nature-based solution for two deep challenges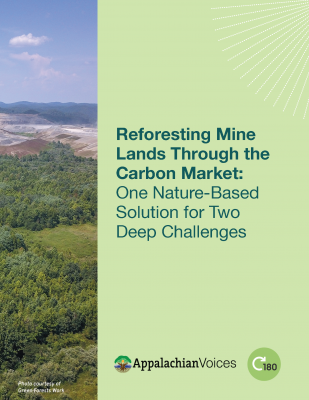 This white paper by Carbon Removal Fellow Diana Dombrowski explores how carbon offset markets could help reforest mine land in Central Appalachia. The paper reviews the current science of nature-based carbon removal projects as well as the successful models of reforesting former mine lands in Central Appalachia.
View the one-pager View the full report
Carbon removal projects exist to remove carbon dioxide from the atmosphere as a method of combating climate change. Projects are designed to monitor and document carbon dioxide sequestration in trees and enact land uses that store that carbon for the long term. Credits based on this sequestration can be bought and sold on carbon markets by governments and corporations seeking to offset their carbon emissions.
Reforestation designed to restore native species can also enhance carbon sequestration. Projects can foster community involvement and benefit local economies and environments, including by creating jobs and enhancing local water quality.
This initiative is supported by Carbon180 in their regranting program for environmental justice organizations.
Hear Diana Dombrowski and Adam Wells of Appalachian Voices and Alayna Chuney of Carbon 180 present the findings of this white paper.