Educator and "Everyday Person" Making a Difference
By Charlotte Wray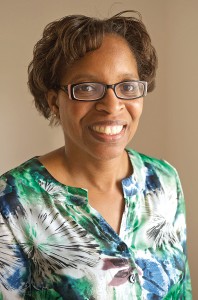 Tracey Wright isn't one to sit back and wait for change to happen — she strives to do all she can to advocate for environmental protection and inspire others to work for change.
Tracey lives in Cleveland, Tenn., with her husband Tommy and two daughters. She serves as assistant to the president for community relations and special programs at Cleveland Community College and also happens to serve as secretary on Appalachian Voices' Board of Directors.
Graduating from Middle Tennessee State University with a bachelor's degree in mathematics and a master's in educational leadership, Tracey quickly transitioned from teaching to working in higher education, first at MTSU and then Appalachian State University followed by Cleveland Community College.
While working with students in housing at MTSU, Tracey deepened her passion for people and for higher education.
"I think diversity is another form of sustainability," she says. "It's an important piece of the handiwork of our earth."
At Appalachian State in Boone, N.C., she served first as the director of multicultural student development and then as assistant vice chancellor for student development. During her time there, Tracey became involved with Appalachian Voices through a colleague, Bunk Spann, an educator, environmental advocate and board member with the organization.
Tracey says she was drawn to Appalachian Voices by "the important mission of the organization, the incredible work that's going on in terms of protecting our environment and being leaders, in terms of bringing about some needed legislative changes, as well as individual changes that must occur in order to protect this earth that we are made guardians of."
She joined the board of directors for the organization, becoming the secretary in fall 2015.
But her passion for the environment began during her childhood in Dixon, Tenn., helping her grandfather grow his traditional garden with tomatoes, potatoes, okra, green beans, corn and more. Tracey says her grandfather taught her to respect the earth and the environment.
"He was a person that I highly, highly respected," she says. "So from an early age, just having us out digging in the ground and planting gardens and talking to us about the different environmental impacts."
Tracey's passion for environmental protection expanded as she worked at Appalachian State.
"It's challenging, I think, to be at a place such as Appalachian State where our students and faculty and staff generally are very supportive of the environment and you're in such an amazing place to not get connected and be concerned about doing all you can," Tracey says. "Particularly in terms of … protecting and being a force to help stop mountaintop removal."
Though Tracey insists that she is an "everyday person," she strives to do her part to recycle, weatherize her home, explore solar panel options for her house and more.
"That's where my passion comes from, recognizing that even though I'm just one, there are things that I can do that are making a positive impact," she says.
"I think the things I'm most passionate about are making sure that we have clean water, clean air, beautiful places for our future generations to enjoy, as well as our current generations," she says.
Tracey continues to garden, particularly flowers, including black-eyed susans, tulips, daisies, irises and lilies.
"My belief system is that we're all connected and we all have an obligation to work together to make things better for one another," she says. "So, what can I do to aid that situation to make it better?"