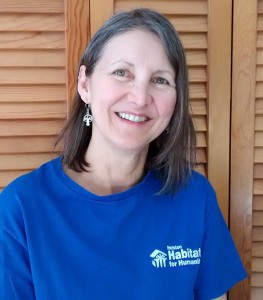 Mushroom Expert
and Mountain Lover
By Charlotte Wray
You could easily call Gabrielle Zeiger a jack of all trades. While she studies fungi and mushrooms as an amateur mycologist, she is also a wildflower enthusiast, an involved social justice volunteer, and a painter.
Growing up in South Florida, Gabrielle saw environmental destruction due to rapid construction, something that "really affected [her] perspective on our place in nature."
Gabrielle first encountered the Appalachian mountains on a motorcycle trip across the eastern U.S. and "fell absolutely in love with them." After traveling and living with her husband Curt in New Orleans for 10 years, they moved to Kingsport, Tenn., 26 years ago.
Gabrielle's love for the environment lies in how nature functions, and specifically the important role fungi play in keeping it healthy and balanced.
"We really don't know what all is out there," Gabrielle says. "[Old growth forests] are the best places to find new species because there are these really complex ecosystems that you don't get in the second growth and third growth forests. The most interesting things you find are often in old growth forests."
A member of the North American Mycological Association, Gabrielle studies fungi that produce fruiting bodies and leads mushroom and wildflower walks with fellow nature enthusiasts.
"[Mushrooms] are all fascinating in their own way. My favorite is the next one I find that I can identify," she laughs. "That makes me really happy when I can."
Gabrielle possesses a humble spirit, often attributing her knowledge to learning from friends, especially the late Arthur Smith, who was a volunteer with Appalachian Voices, and Ed Schell, a well-known photographer in her area. Both were excellent amateur botanists, and she learned much of what she knows about identifying wildflowers during her frequent hikes with them.
Both Smith's friendship and the "scope of his environmental advocacy" greatly influenced Gabrielle. When Smith died 16 years ago, she learned he had been the person delivering The Appalachian Voice to the Kingsport area, and she took his position and has been delivering the paper ever since.
"I love [Appalachian Voices]. I think you guys are a great organization and I'm really proud to be a part of it," she says.
Not only is Gabrielle an avid environmental advocate, she also has a deep passion for social justice, volunteering at the Habitat for Humanity stores in Kingsport and for Remote Area Medical with her husband in the Norton area of southwest Virginia. Habitat for Humanity has built 262 houses in their area, she proudly says.
"If you get to know anybody, and understand their situation, I think it's just normal human nature to have empathy for what they're experiencing," she says.
Gabrielle seems to have eyes that see what often goes unnoticed by others. She views people, wildflowers and small fungi that grow into mushrooms as individually unique and important.
Interested in volunteering as a distributor for The Appalachian Voice? Contact Lauren Essick at lauren [at] appvoices.org