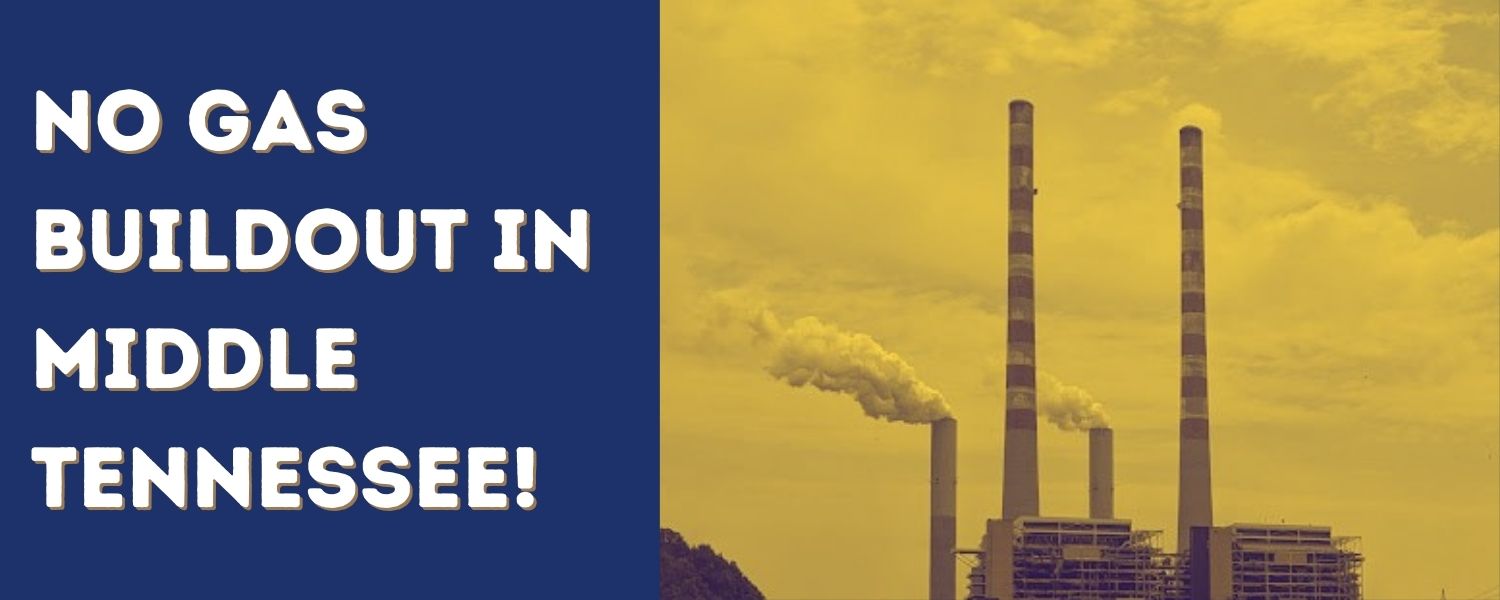 Tennessee Valley Authority is shutting down its coal-fired Cumberland Fossil Plant because it is no longer reliable or cost-effective. The utility is planning to build two methane gas-fired plants and a combined 44 miles of gas pipelines instead of choosing reliable renewables that are safer and cleaner.
Replacing one fossil fuel with another is a step in the wrong direction for TVA. The two methane gas plants TVA wants to build would require construction of a 32-mile pipeline through Dickson, Houston and Stewart counties in Tennessee — and another 12-mile pipeline through Cheatham County. These gas plants and pipelines would emit harmful pollutants that threaten air and water, risk lethal explosions and could cause property loss for landowners who could be forced to sell easements to a private pipeline company.
Comments submitted during review processes:
This gas build would also fail to deliver for the region's workers and economy. While the Cumberland Fossil Plant has previously employed over 250 people, TVA's proposed gas alternative would only create about 25 to 35 permanent jobs. A recent study commissioned by Appalachian Voices shows that clean energy is a reliable and cost effective replacement that would create far more jobs, providing a permanent boost to local economies.
The Tennessee Department of Environment and Conservation is reviewing two water quality permits from gas giant Kinder Morgan as it seeks approval for building its 32-mile pipeline through three counties. The pipeline would cross over seven wetlands and more than 130 streams and its construction would directly damage nearly 6,000 linear feet of streams and require temporary water withdrawals from eight streams and one reservoir.
In order for Kinder Morgan to begin construction on the proposed 32-mile pipeline through Stewart, Houston, and Dickson counties, it must obtain several permits. This includes the Aquatic Resource Alteration Permit and the Section 401 Water Quality Certification from the Tennessee Department of Environment and Conservation. The proposed pipeline would cross seven wetlands and more than 130 streams, in one of which we recently discovered a potential new species of crayfish! This project would require temporary impacts to approximately 5,400 linear feet of stream, temporary water withdrawals from eight streams and one reservoir, and permanent impacts to 490 linear feet of stream associated with the construction of a 32-mile 30-inch diameter natural gas pipeline.
The pipeline would devastate local habitat and threaten the safety of rural community members at the expense of all of TVA's ratepayers and the health of our climate. Please read our blog "Five reasons why the Tennessee Valley Authority's plans for a major gas buildout must be stopped," for more information on the fight against TVA's gas buildout.