Blog compiled and edited by Jen Lawhorne with contributions from field coordinators Angie Mummaw and Gabi Lichtenstein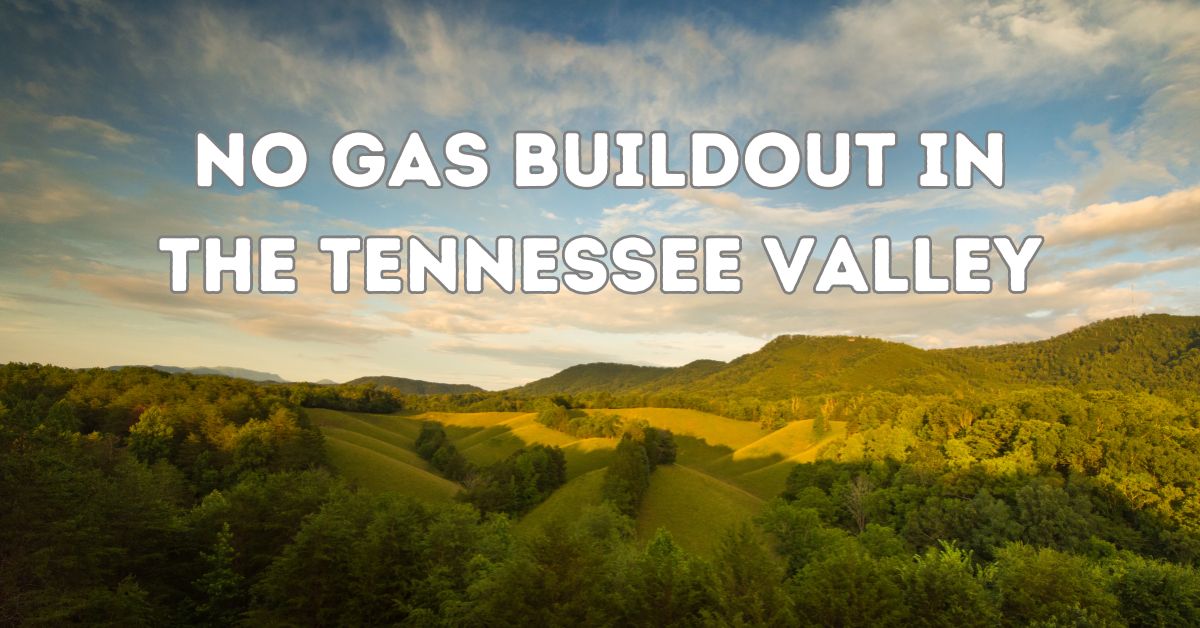 Campaigns to stop Tennessee Valley Authority's proposed methane gas buildout — the largest of any utility company in the country — are closing out 2023 with some major developments and eyeing next year as pivotal in efforts to bring more renewable and affordable energy to the region with good-paying, long-term jobs.
For the past three years, we have educated our supporters about TVA's plans to retire its aging and polluting Kingston and Cumberland coal plants with methane gas plants that require the construction of dangerous pipelines. 2023 saw the exciting growth of grassroots leadership in the communities impacted by TVA's plans as local people came together to form SAGE TN — Safe, Affordable, Good Energy for Tennessee — in the Kingston plant area and two groups in the Cumberland plant area: the Cumberland Preservation Group and Preserve Cheatham County.
These groups are building a movement to oppose TVA's plans by engaging their fellow community members to voice their concerns about those plans by starting social media accounts, distributing yard signs, tabling at local events and appearing on local television. Members of Cumberland Preservation Group also conducted water testing at various sites, since water quality is a huge concern, with many residents relying on wells as their source of drinking water. Appalachian Voices has been providing ongoing support to community members in the Tennessee counties impacted by TVA's proposals.
TVA and the companies that want to build its pipelines — Enbridge and Kinder Morgan — are moving through environmental reviews for the gas plants and pipelines as part of their obligations under the National Environmental Policy Act. At every opportunity, the public has made it clear that they do not want this gas buildout. SAGE TN, Cumberland Preservation Group, and Preserve Cheatham County are actively participating in the regulatory processes that affect whether these projects can be built by submitting comments to the state federal agencies responsible for deciding whether to approve them.
After TVA released its Draft Environmental Impact Statement on the Kingston plant replacement in May 2023, over 4,000 people signed on to Appalachian Voices' comments urging TVA to choose clean energy instead of gas. Decision-makers also spoke out. The Environmental Protection Agency, the National Parks Service, Nashville's mayor and Nashville Electric Service all submitted comments with major concerns or opposition to replacing the Kingston power plant with gas.
At the same time, Enbridge, the corporate polluter responsible for building the 122-mile gas pipeline to feed the gas plant near Kingston, is moving through its regulatory process with the Federal Energy Regulatory Commission for approval of its project. Through this process, we have learned that Enbridge's Ridgeline pipeline would impact 677 bodies of water, including critical habitat for the threatened spotfin chub — a beautiful fish also known as the turquoise shiner.
And we know that the majority of communities impacted by the pipeline project are environmental justice communities, where a high percentage of residents, relative to the county average, are low-income and/or people of color.
In May, TVA revealed plans to partially replace the second coal-burning unit at its Cumberland City site with a separate gas plant located in Cheatham County, requiring an additional 12-mile pipeline through beautiful rural farmland and residential areas. The following month, more than 150 people turned out to a TVA open house to speak out in opposition. Preserve Cheatham County member and local resident Nanette Mahler's property borders the land. She said TVA didn't contact anyone who lives near the site about the proposed plan. "If we cannot trust TVA with small things, how can we trust them with our lives?" Mahler said at the open house.
"If we cannot trust TVA with small things, how can we trust them with our lives?" — Nanette Mahler
Preserve Cheatham County also created resolutions against the Cheatham gas project that were approved unanimously by the county commission and by the Ashland City and Pleasant View city councils. These wins have led to renewed efforts by the Cumberland Preservation Group for a resolution in neighboring Dickson County. Preserve Cheatham County most recently held a town hall meeting on Oct. 25 to share information with their friends and neighbors. The event was a success with over 50 people in attendance.
Finally, for TVA's planned Cumberland gas plant and its 32-mile fracked gas pipeline, more than 4,000 people signed an Appalachian Voices petition to the Army Corps of Engineers to deny a critical water crossing permit in June.
Appalachian Voices worked with members of the CleanUp TVA Coalition and community groups to drive attendance at TVA's quarterly board meeting in May. We supported allies from across the state under the banner of "Tennessee Valley Communities United" to show up and speak at TVA's public listening session, which is held the day before the board meeting. Groups jointly delivered a petition to the board calling on the body to reclaim decision-making power on the gas buildout and to halt it, invest in renewable energy, clean up TVA's coal ash, prioritize safety for coal ash workers and meet with community groups. .
The movement won an important victory the next day when the TVA board members voted to reclaim their decision-making power on the Kingston and Cumberland plant replacements — a power that the prior board had delegated to CEO Jeff Lyash in 2021. Appalachian Voices and other advocates had been calling for the board to reclaim this role ever since.
As we head into 2024 with considerable momentum to defeat TVA's plans, look out for more ways you can get involved by signing a petition, attending a meeting or sharing social media posts! As local country music songwriter and Preserve Cheatham County member Jonathan Singleton sang to a crowd of pipeline opponents, "Tell TVA to take their pipe and shove it!"