Every year, Congress must pass a budget by the end of September in order to fund federal agencies and key government programs, and the outcomes have enormous consequences for communities across the country. The process is always a battle, but this year, with a divided Congress working to finalize a budget on the heels of a very divisive debt-ceiling fight earlier this year, the process is messier than ever. It's so messy that many experts and politicians believe that Congress is heading towards a government shutdown in the fall.
The Fiscal Responsibility Act, which was enacted in June, included an egregious agreement to give Mountain Valley Pipeline a free pass to pollute, but also set out government funding levels for fiscal year 2024. The FRA caps total nondefense spending at $703.7 billion — $40.2 billion less than in FY 2023. This creates a difficult challenge for members of Congress to figure out where to find those savings. Making matters more difficult, the House Appropriations committees have been passing legislation to cut nondefense spending even lower than what was agreed to in the FRA.
Tell Congress not to slash funding for Appalachia!
What's at stake for Appalachian communities
In May, more than 35 organizations across the country sent a letter to the Senate and House appropriations committees outlining priorities for the fiscal year 2024 budget to support community and economic development in coal mining communities as well as the reduction of occupational and environmental hazards. The priorities included:
Funding for the Office of Surface Mining Reclamation and Enforcement for economic revitalization and reforestation programs as well as enforcement of coal mining regulations;
Funding for the Mine Safety and Health Administration to ensure adequate funding for inspections and enforcement to prevent black lung disease and other mining health and safety hazards;
Funding to support the Interagency Working Group on Coal Power Plant Communities & Economic Revitalization and its work to help coal-impacted communities access federal funds;
Funding for the Economic Development Administration, including funding for its Distressed Area Recompete Pilot Program, to support economic development projects;
Funding for the AmeriCorps program to increase the living allowance provided to AmeriCorps members;
Funding for the Department of Agriculture's Rural Partners Network to provide local government capacity in distressed rural areas.
Now that both the Senate and House have released their draft bills, we have released an analysis of how both chambers have met those funding goals. The House has proposed to only fund the above priorities at an alarmingly low 51% of the requested amounts, while the Senate has proposed to fund the above priorities at 81% of the requested amounts.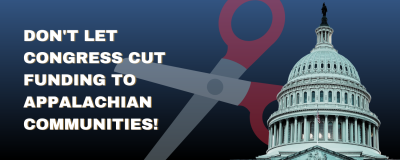 While small cuts to these vital programs were likely after the funding levels were established in the Fiscal Responsibility Act, funding cuts of this magnitude will be devastating, as community organizations detailed in a new letter to Congress just last month.
Of note, the House has proposed a 49% cut to the Economic Development Administration — an agency that leverages private and local government funding to support innovation, competitiveness, and economic growth throughout the country, including dedicated programs for coal communities transitioning to new, diverse economies that can withstand the booms and busts of the coal industry. The Economic Development Administration recently awarded funding to Appalachian Voices for a training program to facilitate the development of an energy storage and electrification manufacturing sector in coal-impacted Southwest Virginia.
In addition to the pending reductions in government funding highlighted above, the House and Senate have proposed a variety of cuts to other key programs that are vital to Appalachian communities.
Water Affordability
Of note, neither the House nor Senate Labor appropriations bills reauthorize the Low Income Household Water Assistance Program. Without the water assistance program, many low-income households are at risk of losing their access to water through water shutoffs because they cannot afford to pay their water bills. Since the program began with an initial $1 billion in funding authorized for FY22 and FY23 during the Covid pandemic,
over 850,000 households
across the country have benefitted.
Utilities also benefit from the Low Income Household Water Assistance Program program. Households' inability to pay for services can cause revenue gaps for utilities, and requires them to spend money trying to collect and punish unpaid bills. Advocates across the country have called on Congress to appropriate $500 million to continue this important program.
Letcher County Prison
The House Commerce appropriations bill includes provisions that will require the U.S. Attorney General to approve permits for a Letcher County, Kentucky, prison on a former coal mine site within 30 days of the bill's passage. The bill would also shield decisions about the prison from judicial review, an act that would strip local residents of their right to engage in the permitting and public comment process. This egregious "free pass" for the prison follows the precedent set for the Mountain Valley Pipeline, attempting to exempt the project from environmental laws and legal challenges.
The project has significant local opposition, particularly because the project would cost $500 million in taxpayer money while many residents of Letcher County are without permanent housing more than a year after last summer's catastrophic flooding, and the community is still desperate for funding to recover.
Rural Clean Energy Jobs
The House has proposed to rescind $1 billion from the Empowering Rural America program and $500 million from the Rural Energy for America Program, both of which support new energy infrastructure and jobs in rural communities. Further, the bill eliminates the grant option under REAP, making the program inaccessible to most small farmers and business owners.
"These clean energy programs are broadly supported by rural utilities, farmers, ranchers, workers and rural small businesses from across the country," said Philip Fracica, director of programs at Renew Missouri, in a recent press statement. "Cuts to these programs would hinder creation of thousands of rural jobs and vastly reduce energy savings for rural Americans."
What's Next?
Congress is just returning from its August recess. In the Senate, the government funding bills have passed committee but still need to pass the full Senate. On the House side, some bills are still in committee, while others are awaiting a floor vote. But no matter when each chamber passes their own bills, the House and Senate appear to be too far apart to reach agreement by the end of September, which is when the federal fiscal year ends.
Leaders in the Senate and the House need to come together to negotiate a final deal in order to keep the government funded. Appalachian Voices will keep fighting to fund these crucial programs and agencies to help protect coal mining communities and transition to clean energy. Help us fund key programs for Appalachian Voices — contact your members of Congress today.