"For nearly four years, I have been working with local residents and others from across the country to sound the alarm about this dangerous degraded pipe and other construction practices that put anyone who lives or visits the area near the Mountain Valley Pipeline pathway in harm's way. The insanity of this project is multiplied by the disregard that MVP and other public officials have exhibited for the people whose lives and land are being sacrificed for this unnecessary, democracy-ending project."
— Maury Johnson, MVP-impacted resident in Monroe County, West Virginia
Tell regulators to stop work on MVP
until safety standards are met!
For years, community members have warned of the dangers of the Mountain Valley Pipeline — from harm to streams, to the destruction of steep mountains and threats to endangered species. Landowners and those along the route have seen construction stop and start as the project developers repeatedly lost federal permits owing to an inability to comply with environmental laws.
They have watched as sunlight and weather beat down on sections of the pipe and questioned how degraded the materials are. Now as MVP construction is resuming, communities along the pipeline's route are alarmed at the danger of using the deteriorated components, fearing that the risk for cracks, weld failures, leaks and explosions has increased.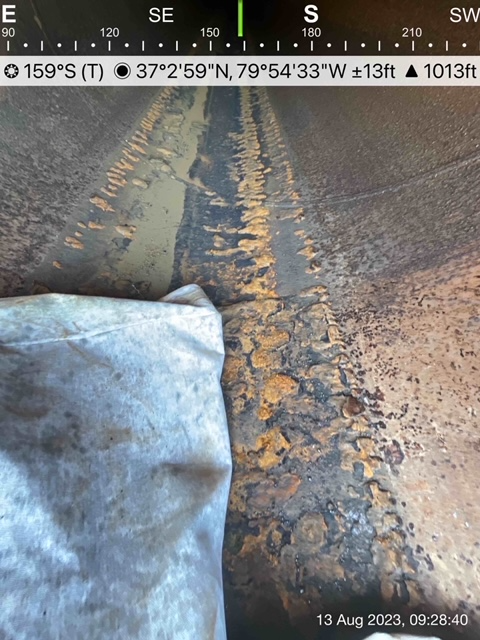 On August 11, the Pipeline and Hazardous Safety Materials Administration, the agency tasked with monitoring the pipeline, weighed in on the situation by expressing significant safety concerns about MVP. (PHMSA, an agency under the Department of Transportation, was created in 2004 to oversee 3.4 million miles of pipeline in the United States and regulate the shipment of hazardous materials.) PHMSA officials indicated they spent over 200 days in the field observing MVP's developers.
In their "Notice of Proposed Safety Order," the agency said MVP requires a "comprehensive evaluation to identify and remediate integrity issues, mitigate the risk and protect public safety, property, and the environment."
PHMSA's report on MVP's unsafe pipes is welcome and is a direct result of the on-the-ground scrutiny community members have kept on this unnecessary, dangerous project. The agency expressed concern with MVP's methods of reporting construction, the length of time the pipe was exposed to sun, the area's topography and potential land movement, and the lack of corrosion protection for pipe already in the ground. The notice would require more stringent reporting, evaluation of all unburied, stored pipe by a third-party inspector approved by the PHMSA director and additional testing before gas flows through the pipeline.
"MVP must be reigned in from its habitual disregard of law and regulation. We will not allow this or any corporate bad actor to ruin our communities and threaten our democracy. We appreciate PHMSA's work in the proposed safety order and look forward to working with PHMSAa to fashion a Safety Order than protects our people and environment."
— Roberta Bondurant, Preserve Bent Mountain
Some of the specific concerns from PHMSA:
Pipe segments have been buried without cathodic protection installed, and without other corrosion control processes and inspections at different junctures.
Pipe staged along the pipeline right-of-way has been exposed to the elements and ultraviolet radiation for long periods of time.
Some data from MVP was being recorded on an outdated form that does not represent current processes and procedures governing such coating remediation work.
MVP has 30 days to reply to PHMSA's findings, but community members are concerned about reports of developers rushing to put pipe in the ground ahead of their deadline for a response. You can speak out on this issue and the need for a pause in construction while the safety review standards are being met.
We've seen MVP developers' repeated inability to comply with environmental standards, resulting in significant violations of environmental regulations. The reasonable expectation is that the same irresponsible approach will apply as construction resumes.
Thank you for your help to hold Mountain Valley Pipeline accountable.