Across the communities of far Southwest Virginia, the conversation about how to strengthen the region's economies has been growing for years. Now, a state agency is taking the exciting step of holding listening sessions in our region to solicit local input on how the commonwealth can support Southwest Virginia's economic future.
Earlier this year, Appalachian Voices and the Appalachian Citizens' Law Center worked to pass a budget amendment to Virginia's two-year budget that provided $400,000 for two Southwest Virginia planning district commissions and created the Interagency Task Force at the Department of Housing and Community Development to support economic development in the region.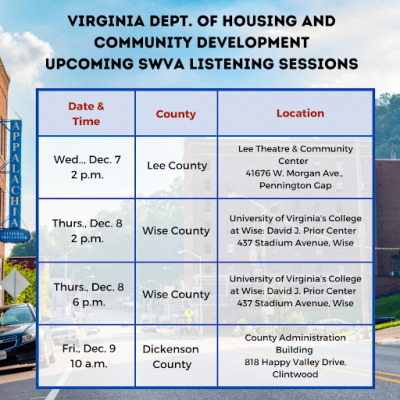 DHCD launched the task force with a kickoff meeting in Abingdon in September. After that meeting, Appalachian Voices and ACLC suggested DHCD hold listening sessions to gather community input. We recommended DHCD host at least one listening session in every county and create a public webpage to host meeting notes and updates to make information accessible for those unable to attend.
Recently, the task force announced plans to host its first round of listening sessions to gather input from residents and leaders across the coalfields about workforce support, infrastructure, housing and other topics related to economic development. Sessions in Lee, Wise and Dickenson counties will be held on Dec. 7, Dec. 8 and Dec. 9, with sessions in Buchanan, Russell, Scott, Tazewell and Washington counties to follow in early 2023.
DHCD is encouraging residents, business owners and organizational representatives and other stakeholders to attend. The sessions will all follow the same format and last less than two hours.
Local voices can influence how federal dollars are spent
Our coalition encouraged this approach because we anticipated large amounts of new federal funding coming to the coalfields from the American Rescue Plan, the Infrastructure Investment and Jobs Act (also known as the bipartisan infrastructure law), the CHIPS Act and now the Inflation Reduction Act. Also, the Virginia Department of Energy produced its report Reenergize Southwest in December 2021, which outlined a few next steps the state should take to support the region, including forming the task force. When thinking about new federal funds and the suggestions within Virginia Energy's report, we pulled four topics the task force should consider for its first report.
The Interagency Task Force should analyze:
The establishment of a downtown revitalization matching fund for communities of less than 2,000 people.
Expansion of the Tobacco Commission's Talent Attraction Program, which pays workers to live in the region and work in targeted, hard-to-fill occupations.
The impacts of the Southwest Virginia Energy Park, known as the "DELTA Energy Lab" project.
How to support the Energy Storage and Electrification Manufacturing project, which is helping legacy coal manufacturers pivot to new electric markets.
Because Appalachian Voices has been working with the White House Interagency Working Group on Coal and Power Plant Communities, we were aware that the flow of these federal investments would be guided by the Justice40 Initiative, which calls for 40% of the overall benefit of particular categories of federal funding to flow to disadvantaged communities and those overburdened by pollution and fossil fuel infrastructure. Since the administration is prioritizing coal communities for some of these federal resources, the four topics we elevated in the budget amendment, including our own Energy Storage and Electrictrification Manufacturing project, were areas we knew aligned with these new investments. We wanted the state to create this task force so that Virginia and our region were in a competitive position to go after the new federal funding opportunities.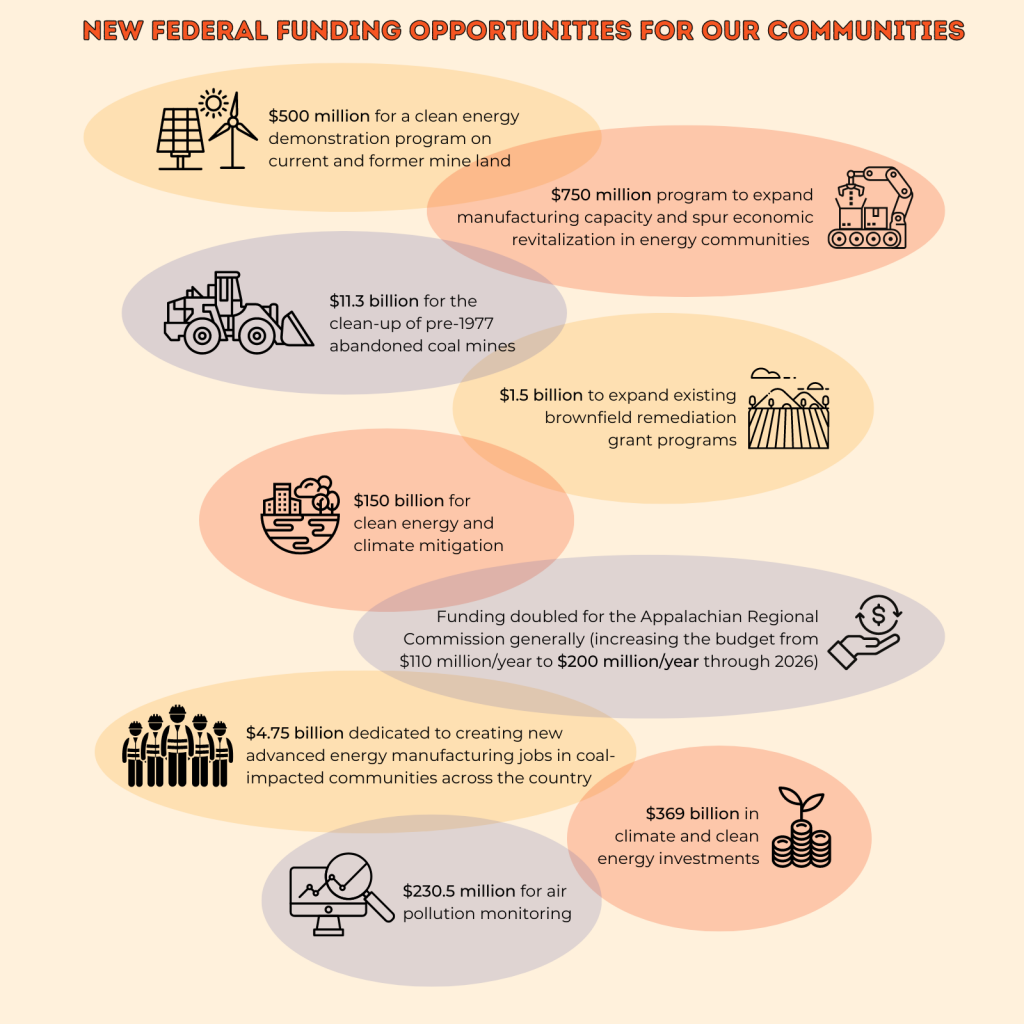 The task force report should include recommendations that outline programmatic and funding needs that can be addressed by the General Assembly and included in the 2024 state budget. The report should also outline the need for ongoing ways to engage and support community involvement concerning economic development and energy production in the coalfields beyond the conclusion of the June report.
Residents are community experts
We are glad to see DHCD starting the listening sessions early. It is critical to the moment and their reporting that state agencies show up, listen and collaborate with community members and diverse stakeholders. To ensure that residents and experts are invited to participate and be heard, we encouraged the task force to adopt a participatory listening and research model.
No one understands a community and its needs better than the residents. Traditional research and stakeholder engagement take a top-down approach to data collection and evaluation, with experts taking a priority role. Participatory listening and research, however, empower residents as experts who know their communities. This alternative model emphasizes the importance of involving community members as active and equal participants in all phases of the research project.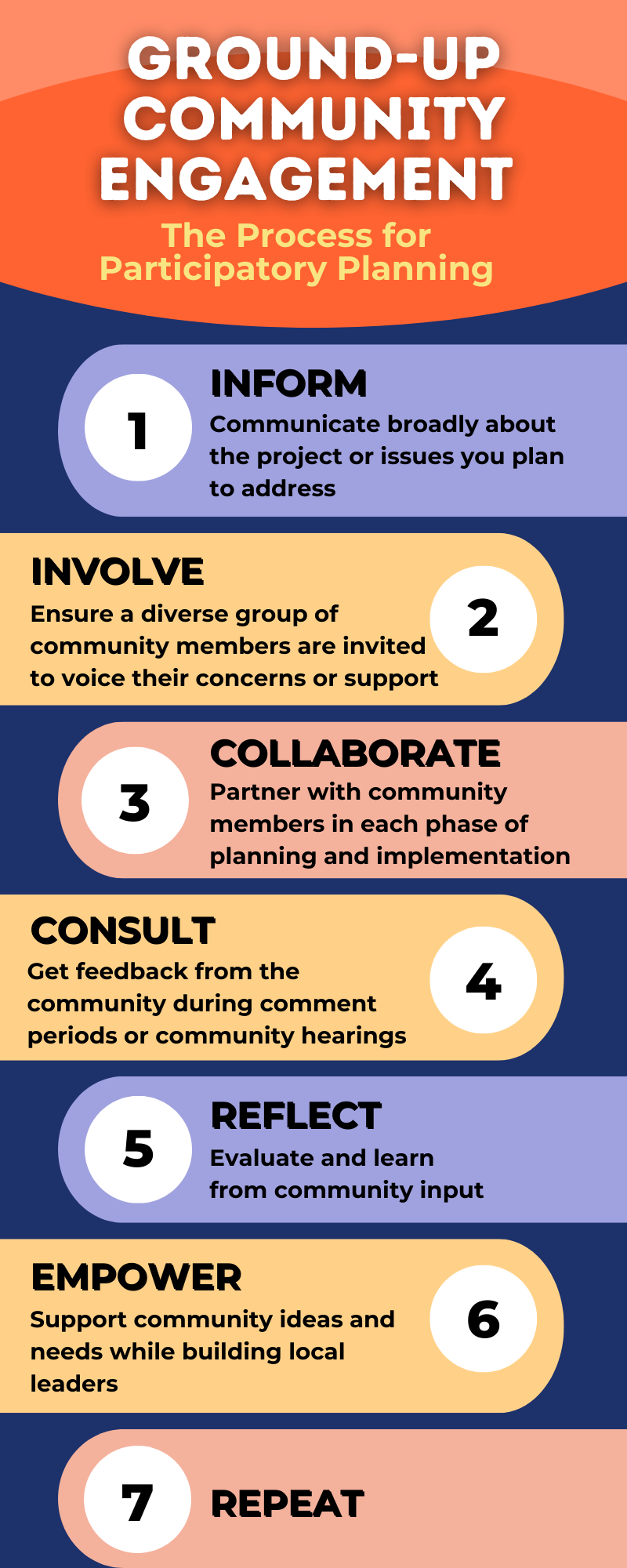 The Biden Administration has made it a priority to engage impacted communities. We recently spoke with Kate Gordon, a senior advisor at the U.S. Department of Energy, who outlined what the agency will consider when evaluating new energy infrastructure projects. Twenty percent of the technical merit of proposals for bipartisan infrastructure law funding will be scored on a project's strategy to engage community stakeholders and whether or not it includes a community benefit planning process.
Community benefit plans or agreements are contracts between developers and community-based organizations representing residents' interests. The agreement spells out the benefits local people will receive from a developer's project in their community.
These agreements often include benefits such as guarantees for local hiring, mitigation of environmental damage, the development or improvement of community facilities and engagement of citizens in decision-making. These agreements help ensure more equitable development, enabling residents to benefit from new energy projects that might otherwise threaten their safety and well-being.
We baked regular stakeholder outreach and engagement into the budget amendment and the task force's reporting process because funding will be allocated based on ensuring community members are meaningfully involved in determining federal proposals. If any Virginia project applicants are selected, their community benefit plans will be part of the contractual obligation of the funding and will be publicly posted on DOE's website to support accountability.
Residents can lead next steps
Other states provide some models for how they are going about this work, including West Virginia, which recently finished a Coal Community Workgroup listening tour and reporting process. Out of that process, the West Virginia Legislature created the Coalfield Communities Grant Facilitation Commission and matching grant fund. We need a fund like this in Virginia. We are competing with these states for many federal funds, so Virginia's task force must get it right.
We know it is important to listen to the planning districts about their capacity challenges as they support project development, to hear from nonprofits working to advocate for these investments and to find local leaders who use every opportunity to go after funding to produce meaningful results. We also know that you can only engage stakeholders if they are invited to the table — and when policymakers and funders only engage with elected leaders, they leave many impacted voices out of the conversation.
We have a once-in-a-generation opportunity to leverage the massive investments coming to our region. Appalachian Voices is committed to ensuring that these funds are spent equitably and address the social, economic and environmental harms left by the coal and fossil fuel industry. We hope the new task force will be a valuable tool for our neighbors in the coalfields and that we will all show up and take a seat together to plan our shared future.
For a front-row seat and to have a voice at the table, please join us at the upcoming hearings!