As record warm temperatures strike the U.S., Virginians call for clean energy instead of fracked-gas pipelines, polluted water, and flooded homes
First-of-its-kind climate justice rally in Va. unites people on the front lines of fossil fuel harm and social justice, faith, landowner, student, conservation, and climate movements

Contact:
Kelly Trout, Chesapeake Climate Action Network, 717-439-0346 (cell), kelly@chesapeakeclimate.org
Amanda Pohl, Virginia Organizing, 804-337-1912, amanda@virginia-organizing.org
Sharon Ponton, Blue Ridge Environmental Defense League, 434-420-1874, ponton913@msn.com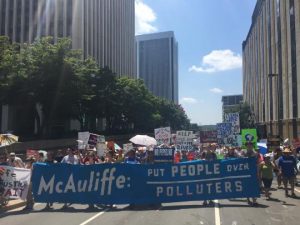 Photos are available here. Visit MarchontheMansion.org and follow the hashtag #ReachTerry for more information.
RICHMOND, Va. — As record warm temperatures strike the U.S., 600 activists marched to Governor Terry McAuliffe's house on Saturday to demand that he put the welfare of people ahead of the interests of polluters. Waving banners that included "McAuliffe: Climate Justice Can't Wait," the protesters demanded that the Governor become a full-time champion of renewable energy solutions, and stop supporting fossil fuels that harm communities and worsen global warming.
The "March on the Mansion" brought together people from Norfolk to Northern Virginia to the New River Valley who face first-hand effects from dirty energy policies that Gov. McAuliffe supports. Farmers whose land is threatened by the proposed Atlantic Coast Pipeline and Mountain Valley Pipeline marched shoulder-to-shoulder with Virginians whose drinking water is polluted by coal ash and coastal residents whose homes are being flooded by rising seas.
With colorful signs, chants, songs, and a 40-foot-long mock pipeline, rally-goers paraded from Brown's Island Park along the James River to Capitol Square, calling on the Governor to listen to their voices and stand up to polluters like Dominion Resources and EQT/NextEra.
Rally speakers included Pastor Paul Williams, a minister in a primarily African American community in Buckingham County, the proposed site of a massive compressor station for the Atlantic Coast Pipeline; Carolyn Reilly, whose family farm in Franklin County would be divided by the Mountain Valley Pipeline; and Dan Marrow, whose family lives near Dominion's Possum Point coal ash ponds and is forced to drink bottled water due to trace contaminants in his well water.
Nebraskan Jane Kleeb, a key leader of the "Cowboy and Indian Alliance" that defeated the Keystone XL pipeline, also joined Saturday's rally in solidarity. The event came on the heels of a new report showing that the surge of fracked-gas pipelines proposed in Virginia and across the Appalachian basin are incompatible with a safe climate future, and fail the "climate test" applied to Keystone XL.
More than 60 landowner, social justice, faith, student, riverkeeper, and climate groups organized and endorsed the rally, demonstrating the growing movement across Virginia calling for swift and serious action to transition to sustainable and just energy. The groups will continue working together to challenge the stranglehold that polluting companies have over energy policy in Richmond.
In an open letter to Gov. McAuliffe in June, the groups laid out a vision for affordable, clean energy development that matches the scale of the climate crisis, gives local communities a voice, and advances social, racial and environmental justice. To put Virginia on a path to tackle climate change and protect community health, the organizing groups Saturday called on Governor McAuliffe to:
Oppose gas and oil projects that hurt Virginians and our economy, including using state authority to deny Clean Water Act permits for proposed fracked-gas pipelines. The proposed Atlantic Coast and Mountain Valley Pipelines, related compressor stations and gas plants, and offshore oil rigs will worsen the climate crisis and create racial, rural, and economic sacrifice zones when affordable clean energy alternatives are available.
Stop supporting reckless coal ash disposal plans that pollute rivers and drinking water. The Governor and the Department of Environmental Quality must reject utility company plans to dump millions more gallons of coal ash wastewater (containing toxic heavy metals) into our rivers and to bury the ash in unlined pits. Coal ash must be properly isolated and stored in a way that permanently protects our water.
Explicitly commit to reducing total climate pollution from Virginia power plants through federal and state clean power rules. The Governor must reject Dominion's plan to increase climate pollution from power plants. Instead, take positive action to protect public health and natural resources, and ensure a transition to renewable energy.
Speakers on Saturday echoed this call for clean energy and polluter-free politics:
Janice "Jay" Johnson, Newport News resident and board member of Virginia Organizing: "Our grassroots environmental movement is about putting the people of Virginia over the polluters destroying our environment, which is what the governor was elected to do. The problems caused by climate change are literally coming to our back yards in floods, potential fracked-gas pipelines, and the erosion of our land, air, and water quality — we're taking these problems to Governor McAuliffe's back yard so he will finally pay attention."
Pastor Paul Wilson, who ministers to the Union Hill and Union Grove Baptist churches in Buckingham County: "Our churches and seventy-five percent of our membership make up the ground-zero zone of the proposed compressor station for the Atlantic Coast Pipeline. Dominion's real message to us is that 200-plus lives don't matter."
Lewis Freeman, Chair and Executive Director of the Allegheny-Blue Ridge Alliance, a coalition of 50 organizations in Virginia and West Virginia that oppose the Atlantic Coast Pipeline: "We call on Governor McAuliffe to live up to the promise of his own words and insist that his Administration do its job to assure that the Atlantic Coast Pipeline or any other similar major project meets the environmental standards Virginians have every right to expect will be enforced."
Carolyn Reilly, Franklin County farmer whose land would be crossed by the Mountain Valley Pipeline and Virginia Community Organizer with the Blue Ridge Environmental Defense League: "Throughout this tough and messy pipeline fight, one of the key lessons I've learned is this: your voice matters. My voice matters. Our kids' voices matters. And it is for our children and grandchildren that we press forward in perseverance to protect our homes, our land, and our communities. We, the People, must unite our voices and demand that the Governor take heed and listen."
Mike Tidwell, Director of the Chesapeake Climate Action Network: "During this extreme heat wave, it is increasingly shocking that Governor McAuliffe supports more extreme fossil fuels. Virginians marched in record numbers to the Governor's house to demand change. Affordable, clean energy is wholly within our grasp if our leaders stand up to Dominion and short-sighted polluters."
Dan Marrow, resident of Quantico, Virginia, whose family lives near Dominion's Possum Point coal ash ponds and now drinks bottled water: "Water is life. Dominion and McAuliffe should clean up their coal ash!"
The Rev. Weston Mathews, Episcopal priest in the Diocese of Virginia: "Remembering the account we must one day give, may we be faithful stewards of God's creation, for it does not belong to us. Climate justice is what love looks like in public."
Heidi Cochran, a Nelson County landowner who has been a leading voice in the fight against the Atlantic Coast Pipeline: "Our constitutional rights to our private property and our rights to a clean and safe environment for our children's future are being threatened by the fossil fuel industry. It is time for our Governor to become informed and live up to his promises to protect Virginians and our environment from the impacts of climate change."
Lauren Malhotra, a student organizer with the Virginia Student Environmental Coalition: "All other liberation struggles are tied into this one. Climate change is the global threat multiplier of our time and will exacerbate the problems of inequality, conflict, and suffering that already seem too great to solve. Climate justice means striving for a fair future that supports all communities."
###