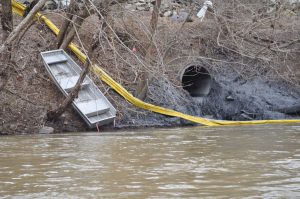 The N.C. Department of Environment and Natural Resources is the target of a federal criminal investigation following Duke Energy's coal ash spill into the Dan River on February 2.
The U.S. Attorney's office issued a grand jury subpoena requesting records from DENR related to coal ash discharges from the Dan River Power Plant including emails, memos and reports from 2010 to the present. Duke Energy confirmed to WRAL that it also received a subpoena, but the company is not required to disclose the contents of the subpoena.
Though this is shocking news, it's not surprising considering DENR's delayed response to the spill and the report last Friday showing that the agency assured the public for five days that arsenic levels in the Dan River were within safe human health standards, when in fact DENR's own test results clearly showed arsenic levels were four times higher on the Monday and Tuesday following the spill.
Gov. Pat McCrory, who worked for Duke Energy for 28 years and received considerable campaign contributions from the company, told business leaders this year that his top priority is making environmental regulations more business friendly. McCrory appointed John Skvarla to head DENR. Since accepting that position, Skvarla has changed DENR's mission statement to move the agency away from being "a bureaucratic obstacle of resistance" and toward becoming "a customer-friendly juggernaut."
According to Amy Adams, a 9-year veteran of DENR who is now Appalachian Voices' N.C. campaign coordinator, the customers of the agency are no longer North Carolinians or the state's natural resources, but industry. Read her editorial about the "soul-crushing" takeover of DENR here.
If the agency entrusted with protecting North Carolina's citizens and natural resources from pollution continues to pander to business interests rather than taking action to prevent environmental disasters, North Carolinians may have to endure more spills like the one that sullied the Dan River.