Distribute The Appalachian Voice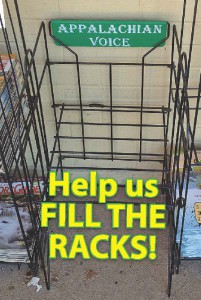 We're grateful to have the support of nearly 100 dependable volunteers who bring the print edition of The Appalachian Voice to more than 400 newsstands, grocery stores and gathering places across nine states.
Would you like to volunteer to bring copies of The Appalachian Voice to your community, or would you like to distribute the publication at your business? Email Mayzie [at] appvoices.org or call (828) 262-1500 to get involved!
Contributor Guidelines
The Appalachian Voice welcomes your ideas and submissions.
Our print edition is published every other month, and because of our limited page space we schedule story topics several months to a year in advance to ensure that we are able to cover a wide variety of issues and geographic locations.
If you have an idea for a story in The Appalachian Voice, please share your thoughts with us by emailing editor [at] appvoices.org or calling (828) 262-1500.
We encourage you to correspond with us about story proposals before taking the time to write a draft specifically for our publication, although we are glad to review completed drafts as well. Please read The Appalachian Voice before submitting story queries.
The Appalachian Voice does not hold an exclusive copyright for content published on our print or web platforms, but we retain the right to publish any content used in the print edition on Appalachian Voices' online channels and vice versa.
Due to space constraints, we do not publish poetry or fiction.
Reproduction
We hope the material in The Appalachian Voice reaches as many readers as possible. Other print and web publications and blogs are welcome to republish our stories. If you would like to reproduce our content on your platform, drop us a line at editor [at] appvoices.org. We will ask you to cite The Appalachian Voice, reproduce the writer's byline, and include a link to the original story post if you're publishing the story online. In most cases, you will be able to reproduce the photos used with the story if you include all relevant photo credit information, but please ask us about photo reproduction prior to use. Also, please let us know where you are reposting our content. We love to know who our readers are!
Internship Opportunities
Interested in using your writing, graphics or advertising skills to support environmental awareness in Appalachia? Gain firsthand experience in nonprofit communications through an internship. Applications are accepted on a rolling basis. Learn more here.