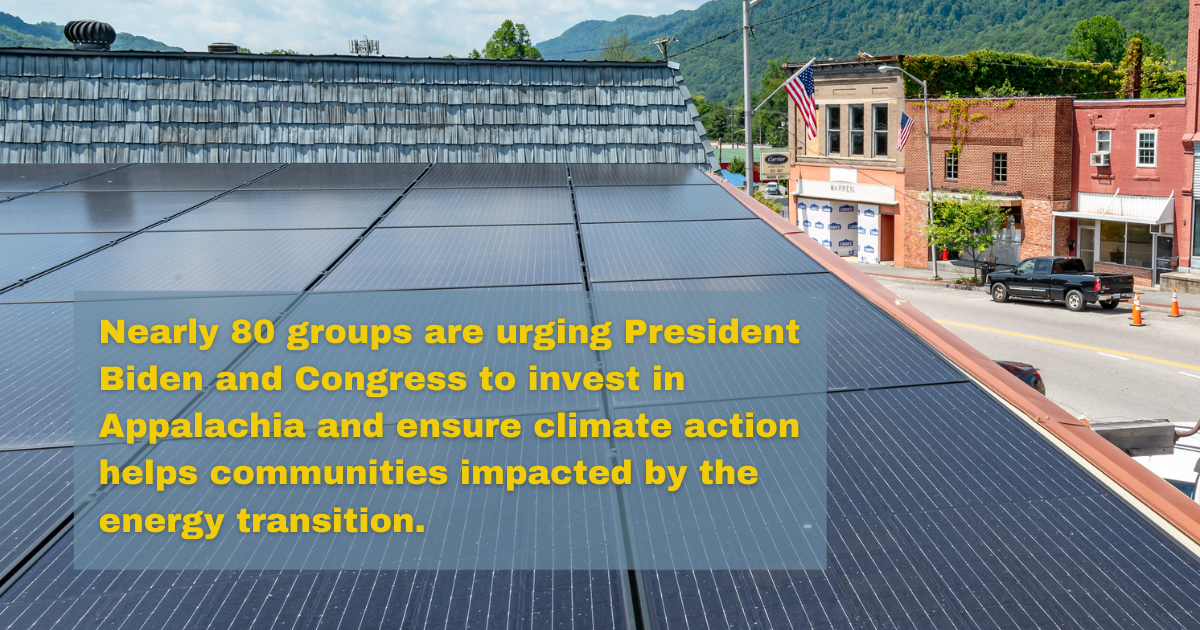 After last year's $2 trillion Build Back Better Act stalled because of opposition from U.S. Sen. Joe Manchin, Congress is considering a smaller package that could include up to $555 billion in clean energy investments to help the United States meet its climate action goals. Manchin has signaled his support.
As negotiations ramp up on this new effort — which, like Build Back Better, would take the form of a budget reconciliation package that could pass with just 50 votes in the Senate — dozens of groups across Appalachia sent a letter on Monday to President Joe Biden and congressional leaders, urging them to prioritize getting the $555 billion clean energy package across the finish line and to target that spending in ways that will help communities long hurt by coal and power plant pollution benefit from the transition to cleaner energy.
Ask your senator to support clean energy jobs!
"The decline of the coal industry in Appalachia has left many communities in the region grappling with unemployment, low income levels, black lung disease and environmental degradation," stated the letter, which was signed by 71 Appalachian groups, including Appalachian Voices, and seven national organizations. "The transition to a clean energy economy must be centered around justice and equity for all Americans and support communities that have historically been hit hardest by the fossil fuel industry and its decline."
The groups urged Congress to pass a budget reconciliation package with provisions that increase access to rooftop solar and weatherization assistance for low- and moderate-income families, promote clean energy manufacturing job creation in economically struggling places, and extend federal subsidies for clean energy.
Through its Justice40 initiative, the Biden Administration has pledged to commit 40% of the benefits of federal clean energy and climate spending, among other spending categories, to disadvantaged communities. Properly targeted, the spending in this reconciliation package could simultaneously lower carbon emissions and power new economic growth in areas that badly need it.
"President Biden promised bold action on climate, while lifting up the fossil-fuel impacted communities that have struggled the most," said Tom Cormons, Executive Director of Appalachian Voices. "Now is the time for Congress to fulfill that promise, creating jobs and helping to bring on a brighter economic future in places where action is deeply and urgently needed. That means getting this legislation to the finish line."
Senators must also use this opportunity to shore up funding for black lung benefits by extending the black lung excise tax. Congressional staff expect bill negotiations to begin soon, and it's crucial that the draft language prioritize disadvantaged communities and those on the front lines of an energy transition.
"We cannot afford to miss this opportunity," the groups wrote. "Please act immediately to move forward on a legislative package that includes the $555 billion clean energy jobs and climate plan that will help transform coal-impacted Appalachia."
Click here to see a list of the groups that signed onto the letter, and click here to write your senators to ask them to support this legislation and a clean-energy transition for Appalachia.