Cross posted from iLoveMountains.org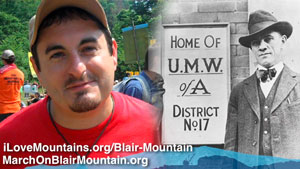 C. Belmont Keeney, or Chuck as most people know him, has a Ph.D. in Appalachian and American History from West Virginia University. His great grandfather, Frank Keeney, was president of the United Mine Workers of America and helped organized the Miners March in 1921. Chuck was one of the principle organizers of the June 2011 March on Blair Mountain.
Since Chuck is an active board member of Friends of Blair Mountain, we asked him to summarize last month's march and tell us what's next for Blair Mountain:
Two weeks after the June 2011 March on Blair Mountain, I accompanied Brandon Nida, a doctoral candidate in archeology at U.C. Berkeley and a good friend, on a day long trip back to the community of Blair. It was a Sunday, overcast and rainy, unlike the sunny mid-ninety degree temperatures under which we marched a couple of weeks before. Everyone who marched remembers the heat. But on this day, Brandon and I drove a nice, air conditioned car down 119 South to Six Mile Road and then winded down the curvy Route 17 through the mountains and into Logan County. To be honest, it is difficult to describe what I felt as we drove by so many familiar sights along portions of the March route. We passed by a lovely country home where, during the March, an old lady invited us to stop and eat lunch. As it turned out, this lady was the granddaughter of a woman who fed the miners during the 1921 March and we found ourselves resting under the shade of the very trees where rebellious miners had been ninety years before. We passed by homes where people applauded us and homes where people reviled us. I have lived my entire life in West Virginia, spent years studying the history of Appalachia, and yet I think I only truly saw my home for the first time from June 6-11, 2011 when hundreds of activists and concerned citizens marched the fifty miles from Marmet to Blair Mountain, West Virginia.

The story of the March itself is different for everyone who participated in it. Much has already been written about it as the people begin to tell their stories. No doubt, much more will be written, and I look forward to seeing what tales emerge from this memorable event. For myself, suffice it for the moment to say, I met many incredible people, formed friendships, and renewed some old ones, which have changed my life in ways I never would have anticipated before. I have met union miners, proud mountaineers, environmentalists, lawyers, scholars, and even people who believed so greatly in the justice of our cause that they crossed oceans in order to make their voices heard. To say that the march has been inspiring is an understatement. But in spite of the profound experience of the march and the attention that we have received around the nation and even the world, Blair Mountain is still in danger and we still have to save it. So as I drove from Charleston to Blair with Brandon and revisited so many places burned into my memory, one overarching question emerged:

What do we do now?