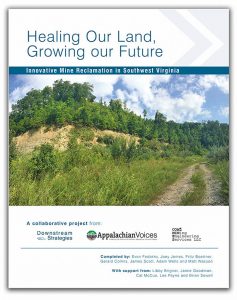 "Healing Our Land, Growing Our Future," a groundbreaking new report, was released on Nov. 1 by Appalachian Voices, Coal Mining Engineering Services, LLC, and Downstream Strategies.
The report imagines a new future for seven counties in far Southwest Virginia. Its authors propose forward-thinking projects — such as solar energy and organic farms — for 14 abandoned mine lands sites that could be possible if Congress passes the RECLAIM Act.
The act is a bipartisan piece of legislation that would invest $1 billion to revitalize the economies of areas historically impacted by the coal industry.
"There's enormous momentum building at the local level to reclaim these lands for a more sustainable economic future, but we need federal investment to bring that change swiftly," says Adam Wells, our Economic Diversification Program Coordinator. Read more about the report beginning on page 10.