By Kimber Ray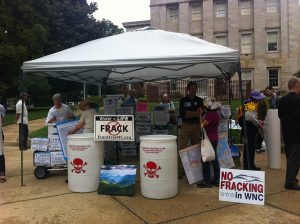 North Carolina's Mining and Energy Commission approved proposed changes to state rules on hydraulic fracturing this November. When Gov. Pat McCrory signed a bill in June lifting North Carolina's 2012 moratorium on the oil and gas drilling practice known as fracking, final rules were ordered to be submitted to state legislators by Jan. 1, 2015.
Citizens and environmental groups submitted nearly 220,000 public comments on the rules governing fracking safety standards, but the commission made few significant changes the public proposed. A request to ban fracking waste storage in open pits — deemed too complicated to address this year — was shelved to reexamine another year.
All rules will automatically pass 61 days after the state legislative session begins Jan. 14, and companies will be able to apply for drilling permits no later than May.