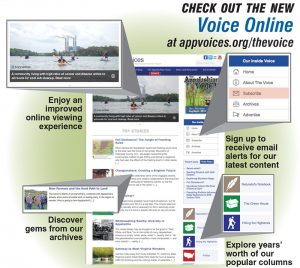 Six years ago, when I took on the incredible task of heading up The Appalachian Voice publication, I was promptly amazed by the volume of positive support and feedback from our readers. Story ideas, kudos to writers and offers to help deliver the publication steadily came in the mail or through email, all helping us to continually hone the publication and ensure we were staying on top of covering the most pressing environmental issues in our region.
Now I am delighted to report that the same great access to our content that you find in the print edition is now available on our website, through our newly revamped online presence.
While we have always posted our story content online, a small nonprofit budget and an even smaller staff for years kept us from being able to develop a fully interactive and surfable web presence for the newspaper. But this past year we embarked on a journey to update The Voice Online, a process that included a survey seeking more of that wonderful feedback from our readers. And you responded!
Thanks to your ideas and suggestions, our small web team — most notably AV's IT technician, Toby MacDermott, and our outstanding summer intern and graphic designer, Jared Peeler — has designed a more enjoyable, and most importantly, a more substantial web presence for The Voice.
Now, as any proud parent would want to do, I'd like to brag about our new features for a moment. The new Voice Online now has:
a visually appealing new look;
each issue packaged for easier online reading "cover-to-cover" (see the latest issue);
a special landing page for our Hiking the Highlands column, so readers are able to scan back through the archives more easily to find hikes you want to try;
ditto for our other regular sections, including Naturalist's Notebook and This Green House — all located in our new sidebar to provide you with hours of material to read about favorite critters or gather ideas for improvements to your own home;
a new online Subscription tool for instant email notifications when each latest issue is published online;
a more fully automated back-end system to aid our staff in uploading new content;
and real-time updates from our Front Porch Blog, so you can click through to the very latest information on the topics you care most about.
Of course, a great work is never complete, and we still have much work to do to enhance the interactivity and surfability of our content. Plans for the future include updating our past issue landing pages to the new design, providing online-only expanded content and special features to complement the print edition, adding an interactive map to our Hiking the Highlands page, and much more.
None of this would be possible without feedback from our readers, and we once again welcome your comments and thoughts on the new design to help us improve access to the news you find important. Please email me at editor@appvoices.org and let me know what you think!
And as always, thanks so much for supporting the mission and team behind The Appalachian Voice. You are the reason we are here.
Jamie Goodman, Editor