Controversy over the environmental costs of coal – from mountaintop removal to ash spills, from black lung disease to the toll on Appalachian communities – has moved from the Appalachian region to the center of the national agenda.
The conflict is increasingly reflected in national media, in protests, and in the courts. Faced with staggering problems and outstanding opportunities, Appalachia has arrived at a crossroads.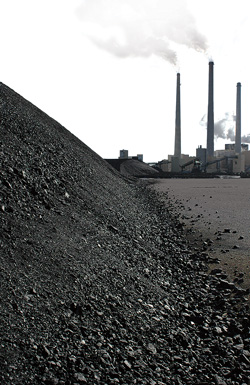 The standoff over mountaintop removal mining is the most serious problem in the coalfields today. Environmentalists and coalfield residents fear they are losing entire forest ecosystems and watersheds, while miners in the coalfields fear they are losing their livelihoods. Yet investments in renewable energy and coal cleanup have the potential to help the region beyond fears into the future.
The response from the coal industry has been an uninspiring and often comic advertising campaign. The public doesn't buy it. Opinion polls (such as an ABC News/Washington Post poll) show that coal continues to be America's least favorite energy option.
Some electric utilities are breaking ranks, finding that coal is an unattractive option compared with investments in conservation and renewable energy that entail far less liability and financial risk. As of March of 2010, only 26 percent of the 231 coal-fired power plants originally proposed in the past decade have been built or are under construction. Some 57 percent have been canceled outright, and the rest are uncertain or are on hold, according to a tally kept by the Sierra Club.
Meanwhile, scientists are documenting "irreversible environmental impacts" from mountaintop removal mining, and many studies have shown risk of serious health problems from mining and burning coal and disposing of coal ash waste.
Water protection is a special problem, as Appalachia is the headwaters for much of the water supplies for the eastern half of the nation.
Few are suggesting a sudden end to coal production, but many are proposing a shift to a 21st century economy, with cleaner, safer ways of producing energy and generating employment.
For those who seek a practical approach to clean water, breathable air and ageless mountains for their grandchildren, the stakes are enormous.
Can the Appalachian dilemma become the American example?