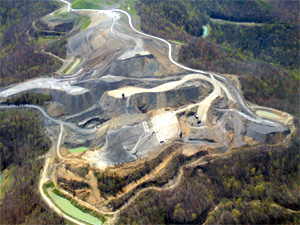 After falling more than 80 percent in two decades, coal mined in Tennessee represents around 0.1 percent of coal production in the United States. But even that amount increasingly comes from destructive surface mining methods.
Three-quarters of Tennessee's coal came from surface mines in 2012, which have negatively impacted more than 125 square miles of the Cumberland Plateau. Tennessee has the smallest recoverable reserves of any coal-mining any state in the U.S., and today mining takes place in just three counties — Claiborne, Campbell, and Anderson.
Employment at mines in Tennessee has also plummeted in the last 20 years. The companies that mine the coal are owned almost entirely by out-of-state or foreign corporations, and 99 percent of coal mined in Tennessee is shipped to other states. Yet the destruction continues. Its time that Tennessee leads the way in stopping mountaintop removal.
Passing the Tennessee Scenic Vistas Protection Act
Appalachian Voices' primary goal in the Tennessee legislature is to pass the bipartisan Tennessee Scenic Vistas Protection Act. This legislation seeks to ban high-elevation surface mining techniques such as mountaintop removal, on peaks above 2,000 feet in elevation.
What mines will be effected by the Scenic Vistas bill, and who owns them?
All of the high-elevation surface mines in Tennessee are owned by out-of-state coal operators who are shipping our mountains and money away from Tennessee. In return, Tennesseans are left with layoffs, poverty and poisoned water.
Who burns the coal mined in Tennessee?
In 2012, 99 percent of coal mined in Tennessee was burned outside of the state.
The Tennessee Valley Authority (TVA) owns 90 percent of the electric generating capacity in Tennessee. In 2011, Tennessee coal made up just 0.2 percent of TVA's coal purchases, due to the fact that Tennessee coal was the most expensive for the utility to buy. Most of TVA's coal comes from western states, often at less half the cost of coal from Tennessee. Read more about our work regarding TVA and coal here.
Is mountaintop removal cheaper for Tennessee and Appalachian citizens?
TVA pays as much or more for surface-mined coal than they do for coal mined underground in Central Appalachia. Studies show that the Tennessee economy experiences a net loss of $3 million each year due to subsidies to the coal industry.
Is mountaintop removal good for employment in Tennessee?
The coal industry is contributing to a jobs crisis in Appalachia and deepening poverty in communities where mountaintop removal occurs.
Since 1985, the coal industry in Tennessee has laid off nearly 85 percent of their own workforce while the portion of our state's coal that comes from surface mining has increased dramatically.
Mountaintop removal is a method that is used specifically to take the coal miner out of coal mining. This principle is not unique to Tennessee. In West Virginia, coal-mining employment jobs has shrunk from more than 130,000 to around 30,000.
If mountaintop removal were going to bring prosperity and wealth to our rural communities, the streets of Central Appalachia would be paved with gold. Instead, these companies lay off thousands of workers and leave a legacy of poverty.
Did the "Responsible Mining Act of 2009″ solve the problems of surface mining, or end mountaintop removal in Tennessee?
Representatives of the coal industry like to say that the "Responsible Mining Act of 2009″ (RMA) solved the problems associated with surface mining in Tennessee. The RMA was a positive step, enacting a "Stream Buffer Zone" to that restricts mining within 100 feet of the high water mark of a stream in certain circumstances. But these buffer zone rules have not always been successful in the past. There was a federal stream buffer zone rule put in place under President Ronald Reagan in 1983, which was on the books until President George W. Bush removed it his final days in office. It was poorly enforced, however, and most mountaintop removal projects and valley fills in Appalachia happened despite the rule.
Mountaintop removal is still happening in Tennessee and it is still having negative impacts on water quality. -- For instance, in Tennessee there is currently a surface mine permit application which seeks to dump waste into three valley-fills, or as they call them here "head-of-hollow" fills.--!> It is obvious that the RMA leaves a lot to be desired for protecting our mountains and our citizens from the dangers of surface mining.
Additionally, acid mine drainage and toxic runoff from mines remains a problem in Tennessee. The Sewanee coal seam underlying much of central Tennessee is the most toxic coal seam east of the Mississippi.
Does "re-mining" improve water quality in Tennessee?
The Tennessee Scenic Vistas Protection Act, as written, excludes re-mining on all "Abandoned Mine Lands."
The Tennessee Department of Environment and Conservation (TDEC) maintains a list of "impaired waters" of the state. In the latest draft, TDEC said that nearly 60 miles of streams in Tennessee are impaired by coal mining waste.
Reclamation and restoration can help to restore some of the degraded streams that the coal industry has already impacted with previous activities. Re-mining on its own, however, has nothing to do with stream repair.
Will this bill end all types of mining anywhere by any means forever?
The Tennessee Mining Association incorrectly asserts that, should the Scenic Vistas Protection Act be passed, private individuals, companies and corporations would be prohibited from accessing the minerals that are rightfully theirs.
The Tennessee Scenic Vistas Act does not prohibit anyone from mining any coal, but clearly states:
Except as provided in subdivision (3) under no circumstances shall the commissioner issue or renew a permit, certification, or variance that would allow surface coal mining operations to alter or disturb any ridgeline that is above two thousand feet (2,000′) elevation above sea level. [emphasis added]
The Scenic Vistas bill only requires that mine operators cannot disturb ridgelines above 2,000 feet.The bill further clarifies:
The requirements of this subsection do not apply to surface coal mining activities that are only incidental to underground mining if the commissioner determines that surface disturbance and effect is limited to that required to conduct underground mining that is otherwise permissible pursuant to federal and state law.
Will this bill impact severance tax collection?
Under the Scenic Vistas Protection Act, all permits existing when the bill becomes law and their renewals are grandfathered in. The bill would only impact severance taxes if coal companies stop mining because they are not allowed to use mountaintop removal to destroy ridgelines.