Taking A Stand in the War on Water
By Erin Savage
Though placid lakes and playful streams seem to say otherwise, a war on water is currently raging in the Appalachian Mountains. Here are just a few of the ways that Appalachian Voices is taking the plunge and combating water pollution. Read more at appvoices.org/waterwatch.
Enforcing the Clean Water Act in Kentucky
Appalachian Voices' Appalachian Water Watch team, Kentuckians for the Commonwealth, Kentucky Riverkeeper and Waterkeeper Alliance are making headway in Clean Water Act litigation against three of Kentucky's largest mountaintop removal coal companies: International Coal Group Inc. (ICG), Frasure Creek Mining LLC and Nally & Hamilton Enterprises, Inc.
In June, Appalachian Voices filed a second notice of intent to sue ICG and Frasure Creek Mining for an additional 4,000 permit violations of the Clean Water Act that occurred in the first three months of 2011. The coalition group filed a previous lawsuit against the same two companies in October 2010 for more than 20,000 permit violations that took place over a several-year period.
The same coalition is also involved in a case against Nally & Hamilton coal company for over 12,000 violations of the Clean Water Act. According to research by our Water Watch team, current Nally & Hamilton reports include exact duplication of data from previous reports.
Mediation with ICG and Frasure was rescheduled for July 26 and trial is set for August 30. The Nally & Hamilton case is in the process of discovery and hearings have been set for January 2012.
Community Water Testing
This summer, Appalachian Voices' Appalachian Water Watch team began community-based water testing in eastern Kentucky and southwestern Virginia. The program is designed to protect Appalachia's watersheds by enforcing state government accountability through citizen water monitoring.
By equipping and training local groups to monitor water quality in areas close to mountaintop removal coal mining, the program provides valuable information about potential pollution violations and helps local residents become better informed about their watersheds and more connected with other concerned citizens.
Appalachian Water Watch provides local host organizations with high quality testing equipment and training in water quality testing and state Clean Water Act permit review. These organizations then provide the same training to their members. The data collected by volunteers will be submitted, organized and made public through the new Appalachian Water Watch website, which will officially launch this fall (stay tuned for details!).
Partner organizations include Southern Appalachian Mountain Stewards, Kentuckians for the Commonwealth, Kentucky Riverkeeper and Sierra Club Water Sentinels. The first training took place in June at the SAMS headquarters in Appalachia, Va. Additional trainings are scheduled during August in Kentucky and Virginia.
The Clean Water Cooperation Federalism Act
Appalachian Voices is working to prevent passage of HR 2018, a bill that threatens our water by rewriting portions of the Clean Water Act and removing the EPA's authority over water pollution. The bill would grant individual states permitting decisions for mountaintop removal coal mines and other water polluting industries. See page 22 for the full story.
When sponsor Rep. John Mica (R-Fl) and others attempted to sneak the bill through the house by waiting until the day it passed the House Transportation and Infrastructure committee to give notice of the bill, Appalachian Voices activated our network of supporters with an email that resulted in 6,000 letters to congress in 24 hours. Our allies, Waterkeeper Alliance and Alliance for Appalachia, quickly mobilized their supporters and generated action alerts to thousands across the US.
In mid-July, HR 2018 passed the House of Representatives. However, the President's advisors have recommended a veto of the bill, stating that it "could adversely affect public health, the economy, and the environment."
EPA Mercury Regulation
Appalachian Voices strongly supports the EPA's proposed new mercury guidelines, which would provide stronger oversight of mercury and other toxic pollutants emitted from power plants. If made a rule, the guidelines would reduce exposure to these pollutants and decrease their associated health risks, such as heart attacks in adults and asthma in children.
We produced a video in support of the new regulation that was submitted as a public comment and shown during the EPA's public hearings on the rule, which were held in May. We also emailed our supporters asking them to submit letters to the EPA voicing their support for the rule. The public comment period is scheduled to end August 4.
Abbadabba Sells Shoes for Mountains
Appalachian Voices would like to give a big thank you to Atlanta-based shoe store Abbadabba's for supporting us with their "End Mountaintop Removal" promotion.
In conjunction with "The Last Mountain" film's run in Georgia from July 8 to 24, the store donated five dollars to Appalachian Voices for every pair of Merrell Barefoot shoes sold. Abbadabba's CFO Kristin Smith grew up in Kentucky and mountaintop removal is a topic close to her heart.
"This cause is a deeply personal one to me as my family hails from the mountains of eastern Kentucky and southern West Virginia," wrote Smith on the store's blog. "Each time I go home, the landscape has changed again and more mountains have been lost. The ecological damage is staggering, and yet not enough people are paying attention."
Abbadabba's proves that business and ethics can go hand in hand, and we look forward to working with them more in the future!
Now 101 Cosponsors of the Clean Water Protection Act!
Appalachian Voices, the Alliance for Appalachia, NRDC and others continue to promote the bipartisan Clean Water Protection Act (HR 1375), a House bill that would make it illegal to dump toxic waste from mountaintop removal mines into headwater streams in Appalachia.
During the third week of July, the Clean Water Protection Act reached 101 cosponsors, and that number is continuing to grow as more representatives learn about the impacts of mountaintop removal on communities in Appalachia.
See if your congressperson is a cosponsor by visiting ilovemountains.org/clean-water-protection-act.
Appalachian Treasures: On the Road Again
Our Appalachian Treasures tour, a multi-media presentation that educates people about the impacts of mountaintop removal coal mining on communities in Appalachia, has hit the road once again, this time to the Pacific Northwest and the Windy City.
Kate Rooth and Austin Hall—Appalachian Voices' national field staff—traveled to the Pacific Northwest for a week-long tour through Washington and to Portland, Oregon. More than 150 people attended presentations in Washington cities including Redmond, Issaquah, Bellevue and Vancouver.
"People are always shocked to know that an egregious practice like mountaintop removal is happening in the United States," Kate said. "The good news is that they are always eager to help and as a result there is a growing national movement fighting for an end to this practice."
As we go to press, Campaign Director Lenny Kohm is touring the windy city of Chicago and southern Illinois to deliver the message about mountaintop removal and talk to people about the Clean Water Protection Act and the Appalachia Restoration Act.
Since 2002, the Appalachian Treasures tour has traveled to over 30 states and talked to over 10,000 people about mountaintop removal coal mining.
Goodbyes & Hellos… Un Adiós Encariñado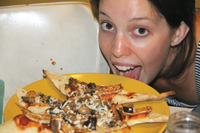 Appalachian Voices bids un adiós encariñado—a fond farewell—to our 2010-11 AmeriCorps Communications Outreach Associate and The Appalachian Voice Managing Editor, Jillian Randel.
During the last year, Jillian has brought a humanist perspective to her articles in The Voice, unearthing compelling stories that help connect people to the issues and to our Appalachian culture.
In one of the highlights of her service year, Jillian worked tirelessly to compile and write stories on more than 60 amazing and accomplished women for our Women of Appalachia issue, helping to highlight the often-overlooked contributions women have made toward protecting the cultural and environmental heritage of our region. The issue received numerous compliments and we believe will have a far-reaching influence on how people view our Amazing Women of Appalachia.
Jillian's intelligence, humor (always attempting Spanish!), unflappable positive attitude and desire to accomplish to her utmost level are all attributes that define her as a person of high character and quality.
Jillian leaves us for Tampa, Fla., where she will pursue writing and her yoga training certification.
We wish her all the best!
Welcoming A Capitol Guy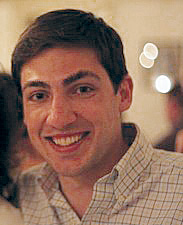 We would like to welcome Thom Kay, our new Legislative Associate based in Washington, D.C.
Thom is originally from the Piedmont region of the Appalachian Mountains in Spartanburg, S.C. He graduated from Wofford College in 2007 with a major in philosophy. Thom has worked with Greenpeace on chemical security legislation and climate change legislation. His most recent work was with the League of Conservation Voters, advocating for several issues including coal ash disposal rules and mountaintop removal.
Thom will be working with our Washington, D.C., team near Capitol Hill to help pass the Clean Water Protection Act to outlaw the dumping of mine waste into Appalachian headwater streams.
Welcome, Thom!