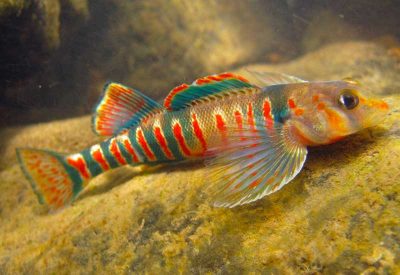 Appalachian Voices continues to fight unnecessary pipelines
2022 began with a major victory for our partners in Charles City County with the cancellation of a new gas-fired plant and natural gas pipeline across central Virginia. Appalachian Voices worked with our friends at Concerned Citizens of Charles City County (C5) to mobilize and resist more investments in fossil fuels in Virginia.
Mountain Valley Pipeline
The last year has proved to be pivotal for the Mountain Valley Pipeline, a project that is now four years behind schedule and more than double its projected cost at $6.6 billion. Appalachian Voices and partners recently prevailed in several legal challenges to the project. Earlier this year, the court vacated Trump administration permitting decisions in both the Endangered Species Act and national forest cases, protecting two endangered fish species (including the candy darter, pictured opposite) and denying the pipeline approval to cross through the Jefferson National Forest. There remain several legal battles for the pipeline on the horizon, including our challenge of West Virginia and Virginia's Clean Water Act permit, and the Federal Energy Regulatory Commission's certificate extension decision is looming as we fight a radical federal legislative proposal that would shred environmental protections and attempt to pave the way for the Mountain Valley Pipeline.
Appalachian Voices helped lead the multi-state "Violation Vigil" solidarity event featuring Rev. William Barber leading up to the Virginia 401 Water Quality Certification board hearing in December 2021. The event highlighted MVP's 300 water violations and lack of compliance with environmental safeguards.
The MVP Southgate extension into North Carolina is facing steep challenges with the NC Department of Environmental Quality denying the MVP's Clean Water Act 401 permit for a second time. The Virginia Air Pollution Control board denied a necessary permit for the MVP Southgate compressor station, citing the Environmental Justice Act, which Appalachian Voices was integrally involved in during the 2020 Virginia General Assembly.
"
As an impacted resident fighting to keep my home and community safe from the now-canceled Chickahominy Pipeline, I was able to count on Appalachian Voices as an invaluable partner and effective ally. From subject and regulatory process expertise, to direct support of those threatened by unnecessary fossil fuel projects, Appalachian Voices is a trusted, unyielding community-minded organization.
"
— Lynn P. Wilson
Sandston, Virginia