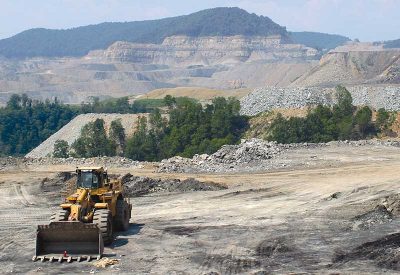 Coal's costly legacy and today's opportunity
We've had wins and sobering realizations this year when it comes to addressing coal's legacy in our region. Our team worked with legislators and partners to ensure that Abandoned Mine Lands were a priority in the bipartisan infrastructure bill — ultimately securing the largest investment in this work in history with $11.3 billion for cleaning up and restoring abandoned mines. This is a huge win for Appalachia and other coal-impacted lands around the country.
There are over 633,000 acres of unreclaimed contemporary mines (almost equal to the land area of the entire state of Rhode Island)
Our Central Appalachian Senior Program Manager Erin Savage wrote a report, "Repairing the Damage," uncovering the catastrophic failures of the modern mining industry to protect the land, air, water, and people around modern coal mining facilities. There are over 633,000 acres of land that require reclamation that will cost upwards of $9 billion — and that's just in the East. The decline in the coal industry has led to more bankruptcies, which means more coal companies abandoning their responsibility to clean up their mess. We're positioned at the cutting edge of this issue — working with both state and federal agencies to address the precarious cliff that the coal industry sits on as it inches closer to its inevitable failure.
We continue to fight for miners' rights and ensure that coal miners who are disabled from black lung disease receive the medical benefits entitled to them by law. The inclusion of a permanent extension of the excise tax on coal to fund the Black Lung Disability Trust Fund in the recent Inflation Reduction Act is an important and historic victory in our work to represent those most acutely affected by the health impacts of the mining industry.
Community Advocates Welcome RENEW Act
We're lifting the voices and issues of Appalachians to the highest power in the land
To address these issues of coal company bankruptcies, idled mines, and insufficient bonds, we're taking action at the federal level and supporting the RENEW Act. We were the driving force behind this new bill, introduced in June, which would tackle the crisis by making cleanup funds available to states once the agencies have exhausted all avenues to get the coal company responsible for the mess to clean it up. This would keep the burden of unreclaimed mines from falling on nearby communities. We're also demanding that the Office of Surface Mining Reclamation and Enforcement bring on leadership that prioritizes proper mine reclamation, which could lead to the creation of tens of thousands of jobs and large-scale environmental restoration.