Dedicated to Sustainable Business
By Meredith Warfield
"Stick to what you believe in, and don't deviate," Appalachian Voices volunteer Connie Hale advises those of us pursuing big ideas. As a passionate restaurant and farm owner, she believes it is worth it to follow your dreams, and that doing what you think is right reaps the best reward.
Originally from Galax, Va., Connie graduated from Radford University with a degree in nutrition and began working as an independent contractor with FedEx, but she knew that this would not be the extent of her career. "Something that I had always wanted to do was own a restaurant," she says.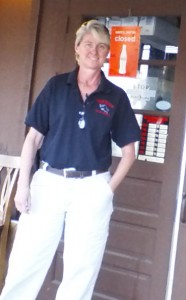 What started as a distant idea became a reality when Connie opened Buffalo and More in Riner, Va., just outside of Christiansburg. The menu follows a farm-to-table method, bringing in fresh dishes sourced from from Connie's buffalo farm just next door. "I wanted to run a business that was sustainable and did everything in a green manner," she says.
At first, Connie and her business partner, Carla George, purchased bison for the restaurant from surrounding farms, but it became clear that raising buffalo of their own needed to be the next step. The decision to take on their own herd was a major milestone in creating the business Connie envisioned. She and Carla located a group of 50 buffalo in Greeneville, Tenn., and embarked on a mission.
Over the course of just a few days Connie's crew transported the animals to their new home on Brush Creek Buffalo Farm. The process was no walk in the park, Connie recalled, but the reward was priceless. "It was intense, but opening that trailer and seeing those buffalo run out into the field and play and jump and be happy — that was a very memorable moment," she says. "They are incredible animals."
Today Connie works as the chef while Carla looks after the farm. The two have toiled at the rigorous restaurant pace for a few years now, enjoying the daily warmth of regulars and tourists alike. Connie firmly values the importance of community and hopes that Buffalo and More plays a positive role in the lives of her customers and employees.
"[Appalachia is] absolutely, positively the only place that I would ever want to live," she says. "From the people to the beauty, it's wonderful."
Connie has been a generous volunteer at Appalachian Voices since the opening of Buffalo and More, helping to distribute 2,000 copies of The Appalachian Voice at her business every other month. She was first introduced when she picked up an issue at the restaurant she eventually bought. Having been inspired by it, and seeing how customers enjoyed the publication, Connie decided to keep The Appalachian Voice tradition going once she opened Buffalo and More.
Visit Connie's restaurant online at buffaloandmore.com