~ November 2014 ~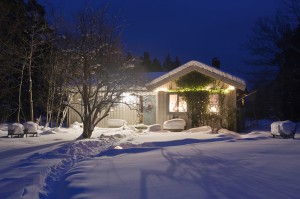 There is snow dusting the mountain peaks and the heat is on for staying snug! You don't have to dread your utility bill: take these simple steps and you will notice a difference in both your comfort in your house and at the end of the month.
TIP OF THE MONTH
Windows and doors are a major heat sink, especially in older homes. Thankfully, sealing those major air leaks can be accomplished with a few hours and few simple tools.
Use a caulk gun to stop major leaks seen on the outside of your house where different building materials meet. Be careful, for most caulk enlarges to three times its size!
Covering your windows with plastic on the inside may not immediately be your first choice, for it does change the cosmetics of your house, but it makes a big difference on single-pane old windows. Shrink-wrap plastic can be found in a $10-$20 kit, often with the double-sided tape included, and all you need is a hairdryer to make an air-tight seal! Check out this video to find out how.
Program your thermostat lower at night and drape heavy blankets over your curtain rods to keep the warm air in your house. Make sure that all your doors have airtight seals, and use weatherstripping to line them if not. 
Home Energy Contest

We have received more than 50 applications for our High Country Home Energy Contest! The Energy Savings team spent five weeks working with the greater community of Watauga, Ashe, Caldwell, and Wilkes counties to spread the word about this great opportunity. We are grateful for the chance to deepen the community's understanding of the need for energy efficiency programs in the High Country.

As one contestant says, "Our log home was built in the late 70s and was never completed. We have bats in the attic that have destroyed the insulation and the basement was never finished or insulated properly."  

It has become clear that a program aimed to help homeowners reduce their utility bills and be more comfortable in their homes would greatly benefit this area. Please sign our petition to Blue Ridge Electric asking them to offer more energy efficiency programs.

CALENDAR OF EVENTS

Saturday, Nov. 15: Deadline to submit applications for the High Country Home Energy Contest at midnight!

Friday, Dec. 5: Announcing the ten quarterfinalist winners in the Home Energy Contest

Monday, Dec. 15: Announcing the Home Energy Contest grand prize and two semifinalists winners

 

Forward this email to 5 friends
Sign a letter to your cooperative supporting energy efficiency
Send a letter to the local press expressing your support for home energy savings -- contact kara@appvoices.org to get some tips.