~ January 2016 ~ Sign up for updates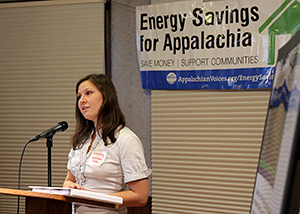 2015 was an incredible year for the Energy Savings for Appalachia team. And we would like to take that success into 2016. It's our goal to make energy efficiency a well-known, accessible, and viable aspect of the Appalachian economy. A lot of what we accomplished in 2015 would not have been possible without your help and support.
Here's what YOU helped us do in 2015:
In the High Country we: 
Provided substantial outreach and education on energy efficiency throughout the High Country region in North Carolina
Developed strong partnerships with a diverse group of community stakeholders
Successfully launched and completed the High Country Home Energy Makeover Contest, which resulted in three homes receiving substantial home energy efficiency improvements and a 15-30% savings on their energy bills
Gathered over 1,000 signatures of support from Blue Ridge Electric members for the development of an on-bill finance program
Collected more than 20 letters of support from local energy efficiency businesses, community service organizations and other stakeholders supporting an on-bill finance program
Achieved our goal!: A commitment by BRE to launch an on-bill energy efficiency finance program in 2016
In other parts of North Carolina we:
Launched community education and outreach efforts in two new electric cooperative service areas: Surry-Yadkin Electric Membership Corporation (EMC) and French Broad EMC
Expanded outreach to other electric cooperatives via the North Carolina On-Bill Working Group
Hired a new North Carolina Energy Savings Outreach Coordinator! Amber Moodie-Dyer, currently working for the North Carolina Justice Center, will be joining Appalachian Voices in February and leading our community outreach efforts
And in Tennessee we:
Kickstarted a community outreach campaign in the Appalachian Electric Cooperative service territory
Developed strong relationships with local weatherization assistance and community services providers
Co-founded a statewide collaboration of Tennessee Energy Efficiency Advocates
Supported a small municipal electric utility in their exploration of funding and developing an on-bill finance program
And here's what YOU can help us do in the new year!
Surry-Yadkin and French Broad EMCs: Help us grow our new campaigns and generate demand among members of these electric cooperatives for developing on-bill finance programs. Contact Ridge Graham (ridge@appvoices.org), who is directing our Surry-Yadkin efforts, or Eliza Laubach (eliza@appvoices.org), who is leading our French Broad EMC outreach, to get involved in either campaign. We are looking for opportunities to provide energy efficiency workshops and attend public events where we can get the word out.
High Country Campaign: Help us maintain community engagement and expand our education efforts in the Blue Ridge EMC service area in order to ensure that BRE's new pilot on-bill finance program is successful and continues to expand!
Clean Power for America: Get involved in our efforts to generate community support for a strong state Clean Power Plan that invests in renewable energy and energy efficiency for rural communities
Volunteer! We can only succeed with the help of others. If you are interested in becoming a volunteer contact  Ridge Graham at ridge@appvoices.org.
Tips and Resources


Ask the Experts: Webinar on Energy Efficiency And Your Home

Jan. 20, 2-3 p.m. EST
Have you ever wanted to know more about energy efficiency? Our panel of experts will answer your questions and discuss ways that you can lower your monthly bills and reduce your carbon footprint! Learn more and register for this free webinar.

Monthly Energy Savings Tip


Winter is here, DIYers! Have you found some leaks in your home that are causing drafts? Want to seal them, but don't know where to begin? Check out this comprehensive article about selecting and using the right sealant and make your home more comfortable! 

Have you already made significant energy efficiency improvements?

Do you want others to have the same benefits of comfort and lower energy bills? Help us spread the word about whole home retrofits and how on-bill financing could help our neighbors in need. Send us an email to voice your support and forward this email to your friends and loved ones. Help us make 2016 a great year for energy savings!

 

Forward this email to 5 friends
Sign a letter to your cooperative supporting energy efficiency
Live in N.C.? Host a free energy efficiency workshop at your church or local community group -- contact ridge@appvoices.org to set one up!
Send a letter to the local press expressing your support for home energy efficiency --Contact sarah@appvoices.org to get some tips.