Energy Contest Update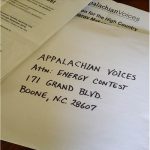 The High Country Home Makeover Contest is wrapping up and we will choose the three finalists next week. We have spent the past two months assessing the 48 applications we received. In December, the North Carolina Energy Efficiency Alliance and our local home energy contractor partners helped us narrow down the list to 11 semifinalists. 
Although our donated funds only stretch so far, education can go a long way in helping homeowners create a more energy efficient home. A workshop taught by contractor John Kidda engaged applicants in discussion about DIY projects. We also created a handy resource guide for the High Country that lists programs for people in need of energy efficiency upgrades or assistance with their energy bills. Please email sarah@appvoices.org to have a hard copy mailed to you.
CALENDAR OF EVENTS
Wednesday Jan. 14: Contest finalists selected
Monday Jan. 19: Grand Prize Winner Announced! Stay tuned for their story!

Forward this email to 5 friends
Sign a letter to your cooperative supporting energy efficiency
Live in N.C.? Host a free energy efficiency workshop at your church or local community group -- contact eliza@appvoices.org to set one up!
Send a letter to the local press expressing your support for home energy savings -- contact sarah@appvoices.org to get some tips.