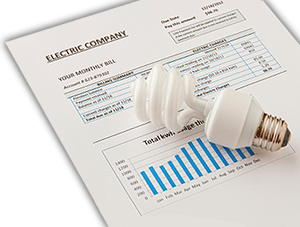 What is on-bill financing?
Under a residential "on-bill energy efficiency finance" program, electricity customers can apply for financing from their electric utility to pay for comprehensive energy efficiency improvements and appliance upgrades in their home. Once the improvements are made, the customer repays the utility over time through an additional charge on their monthly electric bill. If the resident moves away or sells their home, the next owner or occupant takes on the repayment while benefiting from the efficiency improvements.
The intent of on-bill finance programs is to eliminate the upfront cost of making efficiency upgrades to a customer's home, effectively removing a significant barrier, particularly for low-income residents. The model of on-bill financing that Appalachian Voices is promoting is called the Pay-As-You-Save (PAYS©) tariffed program. A key aspect of the PAYS model is that the savings achieved on a customer's power bill as a result of the improvements exceed the annual repayment, providing a net savings to the resident. This may not be the case for every home, but it is a goal that PAYS© on-bill finance programs strive for.
Here's a short, fun video with all the basics — and continue reading below for more details
Who provides the financing, and what can it buy?
On-bill finance programs are generally provided by a customer's electric utility and funded either through existing revenues or from federal sources such as the U.S. Department of Agriculture, which offers funding programs for rural electric utilities that can be used for this purpose.
Home energy improvements that are eligible for funding through an on-bill financing program may vary. Some utilities finance only a single item, such as a new heat pump. Others offer financing for a more substantial suite of improvements and appliance upgrades. The eligibility of the improvements is determined by whether the improvement can be paid for over time through the resulting savings. Improvements under a comprehensive finance program might include, but are not limited to:
Replacing old heating and cooling systems with new energy efficient systems
Sealing air leaks, such as through ceilings, roofs, crawl spaces, entryways and windows
Reducing leaks in air ducts
Insulating attics and floors
Who would be eligible for financing?
Ideally, an inclusive on-bill finance program program would allow all residential (or even commercial) customers to apply regardless of income or credit score, and would cover all types of housing, including manufactured homes, single-family homes and even rental properties.
However, on-bill financing programs are typically tailored to residents who have high electricity bills due to inefficient housing and appliances and are unable to cover the costs of energy improvements themselves. The utility offering the program determines eligibility based on the customer's history of bill payments and the savings potential of the home.
What constitutes a PAYS© program?
In general, the characteristics of an ideal on-bill financing program for home energy efficiency would include:
A low interest rate, typically in the range of 0-5%
sufficient financing to cover a comprehensive set of improvements and appliance upgrades, preferably up to $10,000 or more
A repayment period of 10 to 15 years
Certified savings from efficiency improvements, with the savings equaling or exceeding the amount repaid by the customer on an annual basis
Repayment of the efficiency investment on the customer's monthly utility bill
The use of a customer's bill payment history in lieu of a credit check when determining borrower eligibility
What are good examples of PAYS©?

A growing number of rural electric cooperatives are developing tariffed on-bill finance programs based on the PAYS© model. These programs vary in scope and design, but some good successful programs include:
How can I get my utility to offer on-bill financing?
Through our Energy Savings for Appalachia campaign, Appalachian Voices is working to promote tariffed on-bill financing programs through rural electric cooperatives in Appalachia. If your utility does not currently offer a comprehensive home energy efficiency finance program, you should ask them to develop one — and get as many of your friends and neighbors to do the same.
Send a letter or fax to your utility asking them to provide comprehensive financing for energy efficiency using our Energy Savings Action Center.