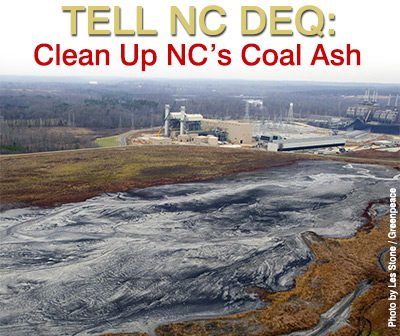 We need you to attend one of these crucial meetings!
In January, the North Carolina Department of Environmental Quality is holding public information meetings to help decide the final cleanup plan for six toxic coal ash dumps.
Duke Energy's plan is to simply cap the ash in place and run away. Don't let Duke "Cap and Run" from cleaning up its ashy mess.
Through a 2016 state law backed by Duke Energy, DEQ is forced to give these ponds a "low priority" ranking that would allow Duke to cap the ash in place. All six sites are in violation of federal rules that requires coal ash to be stored five feet above the groundwater table.
The communities around these six sites have suffered for years from exposure to the toxic heavy metals found in coal ash. Tell DEQ it must require Duke to fully excavate the coal ash at these sites, ending this toxic nightmare once and for all.
We have come a long way in the fight for coal ash over the years. Now we are bringing the fight to a close. Please make every opportunity to attend these events and speak up for impacted communities! Capping coal ash in place is not an option!
Below are the dates, locations and links where you can find more information and RSVP on Facebook.
Belews Creek Steam StationRSVP
Jan. 10, 6 p.m. at Walnut Cove Elementary School
Address: 1211 Walnut Cove School Road, Walnut Cove, N.C.
Mayo Power StationRSVP
Jan. 15, 6 p.m. at Mayo Park Environmental Education Community Center
Address: 1013 Neal's Store Rd, Roxboro, N.C.
Marshall Steam StationRSVP
Jan. 17, 6 p.m. at Sherrills Ford Elementary School
Address: 8103 Sherrills Ford Rd, Sherrills Ford, N.C.
Cliffside Steam StationRSVP
Jan. 22, 6 p.m. at Chase High School
Address: 1603 Chase High Rd, Forest City, N.C.
Roxboro Power StationRSVP
Jan. 24, 6 p.m. at Person High School
Address: 1010 Ridge Rd, Roxboro, N.C.
Allen Steam StationRSVP
Jan. 29, 6 p.m. at Stuart Cramer High School
Address: 101 Lakewood Road, Belmont, N.C.