Dear Members,
Happy New Year!

Thank you for your generous support of our work in 2010. As we work for a cleaner energy in the Southeast, you will see below that we are off to roaring start in 2011.
Julia 'Judy' Bonds. Painting from the
"Americans Who Tell the Truth" series
by Robert Shetterly
This past weekend, we joined with others to celebrate the life of Julia "Judy" Bonds who died recently. Judy was a Goldman Environmental Prize winner who was inspired to speak out against the destruction of the beloved Appalachian Mountains when her grandson was found holding handfuls of dead fish in a neighborhood stream polluted by coal waste. The room was filled with hundreds of people who were connected by Judy and by their love of our region.

Like Martin Luther King, whose life we also celebrate this week, Judy realized that an injustice anywhere is an injustice everywhere, and her work was part of a bigger movement to stop the sacrifice of our land, air and water and people for short-term profit.

Our strength is in our numbers and our resolve to continue the struggle to ensure clean air, clean water, and healthy communities. Thank you for your support—you are making a difference.

With Warm Wishes for a Prosperous and Healthy New Year,



Willa Mays
Executive Director
Historic Action on Mountaintop Removal, Hysterical Reaction from Industry
Despite intense political pressure, the Environmental Protection Agency lived up to its name to veto the largest single mountaintop removal mine ever permitted in West Virginia. Of course, Big Coal and their political allies are pouting, despite the fact that Arch Coal refused to minimize the mine's impacts at the cost of about $.55 CENTS a ton.Thank the EPA and to tell Congress to get with the program.
Better than an Episode of Law and Order!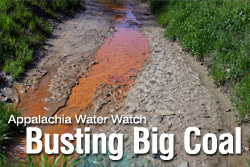 Why can't Kentucky coal companies do a better job of falsifying water monitoring reports? Could the state of Kentucky offer these scofflaw companies a better deal (fines that equal a slap on the wrist and no acknowledgement of criminal intent)? Will the state ever learn to upload a 400 page document even when a judge orders them to do so? We ended up doing it for them. There is some good news: the judge ordered a public comment period and is considering our motion to intervene in the state's settlement (score!). Keep up on the latest here.
Healthy Opposition Growing Against Virginia Coal Plant
Three health groups recently took a deep breath before announcing their opposition to a coal-fired power plant proposed by Old Dominion Electric Cooperative. The groups' announcement adds fresh air to our campaign to make sure this massive coal plant never gets built. The plant, if approved, would be located in the Hampton Roads area and downwind communities like Virginia Beach would receive much the pollution. This Tuesday, the Virginia Beach City Council is considering accepting the Mayor's Alternative Energy Task Force report which includes a recommendation to formally oppose the plant.
Duke "Progress"-es to become Nation's Largest Utility
Utilities Duke and Progress, both based in North Carolina, will merge to form the largest utility in the country. Is this good, bad or ugly? Remains to be seen, but here are some initial thoughts.