This is the season of gratitude and giving, and we at Appalachian Voices are exceedingly grateful for the committed and passionate individuals who give their time and other resources while serving on the Appalachian Voices Board of Directors. The board plays a vital role at Appalachian Voices, just as our members and our staff do, and this time of transition gives us the opportunity to celebrate the titanic contributions of our board members and welcome our new board chair to her role.
Last month, Tracey Wright, formerly board secretary, officially became our board chair. Kim Gilliam, who served as chair for the past six years, rotated off of the board's Executive Committee but is continuing to serve on the Board of Directors. Clara Bingham, who served three terms on our board of directors, retired from the position, and Pallavi Podapati stepped down following two terms. We also welcome Tennessee native and current Western North Carolina resident Russ Moxley to the board.
"Kim's leadership has been truly transformative in helping us take Appalachian Voices and our impact to an entirely new level. I am personally very grateful for our close collaboration over the past six years," says Executive Director Tom Cormons. "And, simply stated, I am immensely happy to now be in the same partnership with Tracey, who brings such deep commitment, integrity, and insight to her role. Appalachian Voices is extremely fortunate."
Kim Gilliam
When James "Kim" Gilliam became chair of the Appalachian Voices Board of Directors in 2014, he brought a deep well of knowledge and experience to the position, in addition to a keen sense of humor and a thoughtful approach to the issues at hand.
Read about Kim's experience as board chair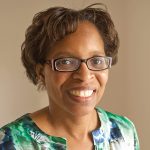 Tracey Wright
Relationship-building and inclusivity are two important themes for incoming Appalachian Voices Board Chair Tracey Wright. She describes herself as a "servant leader" and says her past experiences and multiple identities help inform her board service.
Read an interview with Tracey about her approach to leadership and more