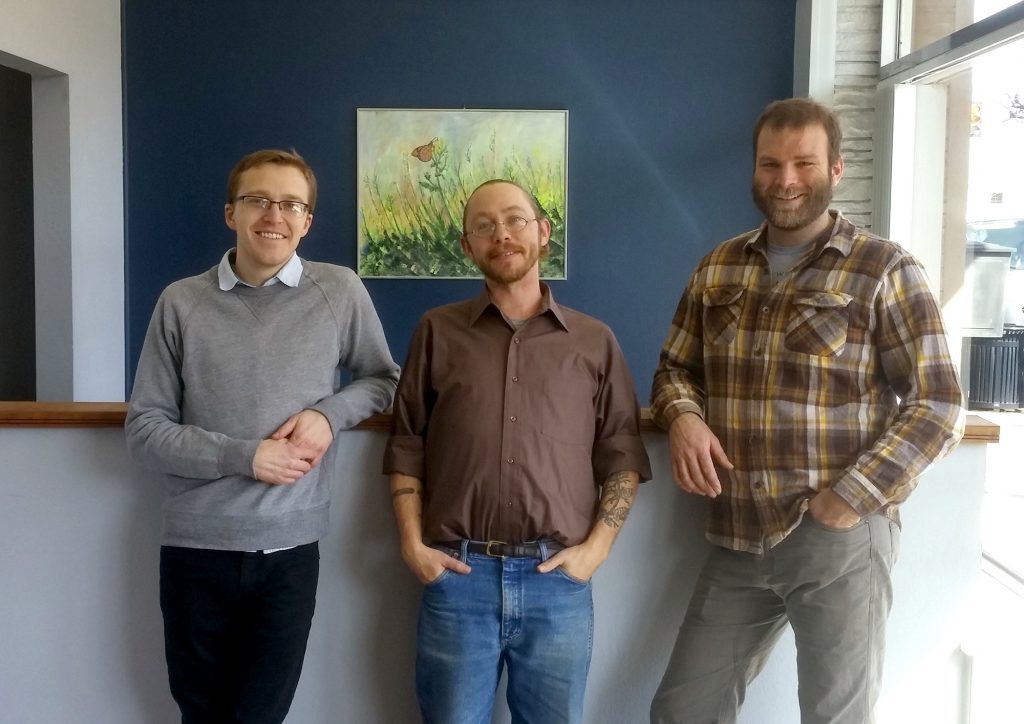 We're very excited to announce the official opening of our new office in the City of Norton, Va., located in far southwest Virginia, part of the Mountain Empire. Here, we're surrounded by the mountains, forests, rivers and communities we love.
Three members of staff work from the new office, located at 816 Park Avenue, NW. If you're in the neighborhood, don't hesitate to stop in and say hello.
Adam Wells
Adam serves as our Economic Diversification Campaign Coordinator. His focus is to gather local citizen input about ways to diversify and grow the economy to make sure their voices are heard at all levels of planning for the region's economic development. Last fall he led a series of eight community forums that drew more than 100 people, and will soon be taking the project to the next phase. Among other things, Adam is also working with a host of other stakeholders in the region to ensure passage of the newly-introduced RECLAIM Act.
Adam first walked through the doors of Appalachian Voices as a volunteer while an undergraduate at Appalachian State University. After earning his B.A., he moved to Wise County, Va., to live on the land his family has inhabited for five generations. As Outreach Coordinator for Southern Appalachian Mountain Stewards, and later as a field organizer for the Sierra Club, Adam dug deep into the movement to end mountaintop removal coal mining in Southwest Virginia. He also worked as a Wilderness Therapy Field Guide, and in 2013 joined the Upper Tennessee River Roundtable, focusing on the Guest River in Wise County.
Adam returned to Appalachian Voices in 2015 to build our New Economy for Appalachia campaign in Southwest Virginia. He still lives on his family farm in Wise County with his wife, their newborn son and their dog, where they enjoy spending time in the beautiful mountains, especially on rivers.
Contact Adam: adam[at]appvoices.org
Willie Dodson
Willie joined our team last year as our Central Appalachian Field Coordinator. He focuses on community outreach and engagement, meeting with people in the coal-bearing regions of Virginia, West Virginia, Kentucky and Tennessee who are concerned about their economic future and the harmful impacts of mountaintop removal coal mining on their communities and the environment.
Willie grew up in the piedmont and the mountains of Virginia, graduating from Berea College with a degree in Appalachian Studies. Since 2004, he has been organizing for environmental and social justice in Appalachia with such groups as the Southern Appalachian Mountain Stewards, the Southern Energy Network and the Mission and Service Board of Union Church in Berea, Ky.
Willie lives in Wise County, Va., and is an old-time and not-so-old-time musician, a forager of wild foods and medicines, and a sucker for any grey-haired person who wants to tell a story. He genuinely likes people, even ones he disagrees with about everything.
Contact Willie: willie[at]appvoices.org
Tarence Ray
Tarence serves as our a Central Appalachian Field Coordinator, focused mostly on Southwest Virginia and eastern Kentucky where he lives. He meets with a wide range of local residents about the impacts of coal and the need for economic diversification. Both he and Willie coordinate closely with The Alliance for Appalachia, a coalition of 15 partner organizations working to end mountaintop removal mining and support a just, sustainable economy in the region.
Tarence was born in Lubbock, Texas, and was raised in the rural oilfields of southeastern New Mexico. He received a B.A. in history from the University of Texas at Austin. His interest in the socio-economic parallels between his home region and the coalfields of central Appalachia brought him to eastern Kentucky in 2012. Since then, he has served two terms as an Americorps VISTA in Letcher County, Ky., focusing on water quality, economic development, mine safety and environmental justice.
Tarence is also a programmer and occasional radio producer at Appalshop's WMMT-FM in Whitesburg, Ky., where he lives.
Contact Tarence: tarence[at]appvoices.org