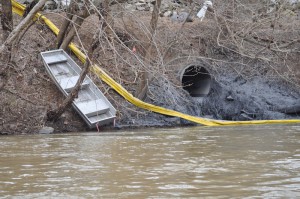 Since Feb. 2, when the Dan River coal ash spill drew national attention to the threats coal ash poses to our waterways (again), North Carolinians have come together to tell state regulators and elected officials that the risks associated with Duke Energy's coal ash ponds are unacceptable.
On Tuesday, the Sierra Club released a poll of more than 600 North Carolinians that showed 90 percent of voters believe Duke Energy should clean up all of its coal ash sites in the state. Of those polled, 83 percent said that coal ash should be regulated as a hazardous waste by the EPA, including majorities of Democrats (91 percent), Independents (85 percent), and Republicans (75 percent).
Support for proper storage of toxic coal ash also beyond polling data and into public life. Across the state citizens have rallied to demand Duke Energy pay to clean up its coal ash, rather than passing the costs on to their ratepayers, as the company's CEO, Lynn Good, has suggested.
Last Saturday, North Carolinians and Virginians gathered in Eden, N.C., to support residents of Eden and the surrounding communities who love the Dan River. Organized by the Dan River Basin Association, Appalachian Voices, NC Conservation Network, and the Southern Alliance for Clean Energy, the event was an opportunity for community members to unite over food and music, provided by the very talented Dan River Girls, and stand in solidarity almost two months after the tragic and preventable coal ash spill into the Dan River.
Unfortunately, even as we celebrate all that's beautiful about the Dan, Duke Energy continues to find new deposits of coal ash and elsewhere Duke Energy's disregard for safety continues. After the Cape Fear Riverkeeper released aerial photographs of Duke illegally pumping toxic wastewater from coal ash ponds into the Cape Fear River, officials noticed a crack in one of the earthen dams containing the coal ash at the Cape Fear plant.
Apparently, DENR has been feeling the public pressure too. After blocking the Southern Environmental Law Center's attempts to enforce the Clean Water Act and hold Duke accountable for unpermitted toxic discharges, DENR has asked a judge to withdraw their previous settlement with Duke Energy and allow its lawsuit to go forward.
DENR also announced that it will be working closely with the U.S. Environmental Protection Agency on how to remediate the problem of coal ash pollution in North Carolina. This seems to be a change of heart, after DENR turned down nearly $600,000 from the EPA to study the potential of fracking to damage water quality.

Click here to learn more about the Dan River coal ash spill and the problem of coal ash pollution.