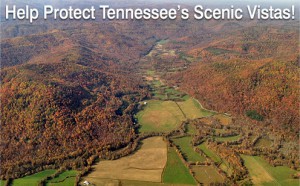 I was born in a little South Carolina town nestled in the foothills of the Blue Ridge Mountains. When I was five years old, my mother and I traveled to Ohio to visit her family. While there, my Uncle Bill started calling me "hillbilly." I was very proud of that moniker and I would announce to everyone we encountered during that visit that I was a "hillbilly" from the Blue Ridge Mountains.
When I moved to East Tennessee when I was 16, I quickly fell in love with the region. It felt like home, especially the Cumberland Mountains. That love has strengthened over the years, which is why I am so excited to join Appalachian Voices to coordinate our organization's Tennessee campaign.
In 2003, a large cross-ridge mine was permitted on Zeb Mountain in Campbell County. I was living on the mountain adjacent to Zeb Mountain at the time and could see it from my deck — it was my backyard. As the mining progressed on Zeb, I started doing weekly surveys and water testing with other community members on several of the streams coming off of the mine permit area. Month to month and year to year, I witnessed the steady degradation of those beautiful mountain streams as they were strangled by the sediment produced by the blasting on the mountaintop above.
I watched coal trucks race each other on the narrow twisting mountain highway that passed by an elementary school. I saw state and federal violations rack up, most of them concerning water quality. But too many fines were suspended for years and appealed by the coal company, so little or no payment was ever collected.
I watched my well water turn orange, and we started using bottled water to cook with and drink. I saw my windows rattle and my doors move from the massive explosive blasts used to blow apart the top of the mountain to get to a thin seam of coal. I started working to protect Tennessee's mountains from mountaintop removal coal mining more than 10 years ago because it was personal for me.
I don't live in Campbell County anymore, but it is still personal to me and I will continue to fight mountaintop removal because the mountains of Tennessee will always be in my heart and in my backyard.
Do you live in Tennessee and share Ann's love of mountains? Click here to ask your representatives to co-sponsor the Tennessee Scenic Vistas Protection Act.